Wanna cut to the chase? I went searching for the best blues acoustic guitar, and my top overall pick was the Fender CD-60S Acoustic.
I've been playing guitar for over 20 years, but I only recently got into the blues. I wish I'd started sooner, because playing the blues (at least the basics) is pretty easy, and really fun.
I think you'll have fun with it too.
I've carefully compared several options (with various features and price levels) to help you find the best acoustic guitar for playing the blues.
As a bonus, I'll also explain what the blues is all about, and give you some tips on how to start playing.
6 Best Acoustic Guitars for Playing the Blues
Now that we know a little more about the blues, let's take a look at some specific guitars to help you find the best blues guitar for your needs.
Top Pick: Fender CD-60S Acoustic (w/ Starter Bundle)
1.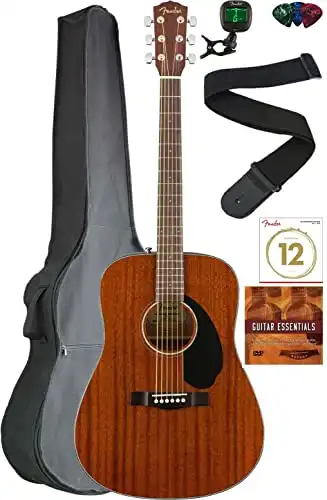 This is my top pick because it comes with everything you need (and more) at a decent price that won't totally break the bank.
This is a solid beginner set with all the needed accessories (including a clip-on tuner, strap, picks, strings, and even a beginner DVD) to help you start playing right away.
The action is low, making it easy to play even for a beginner, and the sound is very rich.
The price is very reasonable, and the dark mahogany finish is attractive and unique.
On the downside, this guitar does not have an electric pickup so you can't plug it into an amp, and it's not a cutaway so playing higher notes can be awkward.
The strings that are included are not great, so you may want to restring it soon. Fortunately, that's an inexpensive upgrade.
What I Like
Nice beginner set with all needed accessories
Low action – easy to play
Modest price
Attractive appearance
Rich tone
What I Don't Like
No pickup
Not a cutaway
Strings included are low quality
Top Pick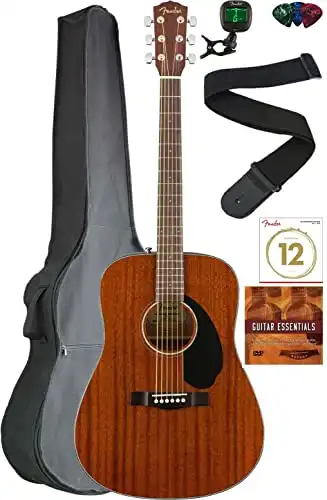 Close 2nd: Takamine GD11MCE-NS Dreadnought Acoustic-Electric Guitar
2.
Takamine is known for its mid-range guitars that can cater to both beginner and professional players. The GD11MCE-NS Dreadnought Acoustic-Electric may be one of their best guitars, a "D" with a cut. You can play this guitar straight from the box since it typically doesn't need any additional setup.
It has a solid body made from pure mahogany with a gorgeous natural finish. It has decent action that shouldn't hurt your fingers. Even with the original strings, it has a nice overall sound and bright tone. In addition, it has a good quality pickup with a built-in tuner made by Takamine itself.
One downside of this guitar is that it doesn't have any freebies like a soft padded gig bag. And some units can have minor issues like loose tuning pegs.
Overall, this is a solid guitar with a reasonable price and good quality. If you're comfortable with the price range. It's a solid option for most players and has a nice suite of features, which is why it was a close 2nd for my "top pick".
What I Like
Acoustic-electric
Good Action
Playable out of the box
Nice bright sound
Cutaway
Takamine TP-4T Electronics
What I Don't Lik
Guitar case not included
Tuning pegs may be loose on some units
Sometimes frets buzz (may need adjustment)
Close 2nd
Upgrade Pick: Taylor GS Mini-e Koa Acoustic-Electric
3.
With this Taylor mini, you'll get a beautiful lightweight guitar with amazing sound from a trusted brand, but you'll also have to spend a little more money.
It's a bit smaller than your typical guitar (but still bigger than a 3/4 acoustic guitar) , which makes it easy to hold and carry, but may not be ideal if you have gigantic hands.
The action is low, which means it will be easy to play for a beginner.
The sound is very rich and full–more than you might expect from a "mini" guitar.
With it's small size and low action, it may also be among the best guitars for fingerstyle blues.
Most people love the appearance, but there can be some variability in the look from one piece of koa wood to the next.
Unless it's out of your price range or you don't like the idea of a smaller guitar, you can't really go wrong with this option. That's why this is my top pick if price is not a major issue.
What I Like
Lightweight and easy to hold
Low action
Acoustic-Electric
Excellent tone
Beautiful koa wood
Plenty loud for its size
What I Don't Like
Not a cutaway
Variable look (due to koa)
Not ideal for large hands
No built-in tuner
Upgrade Pick
Budget Pick: Yamaha FS800 Small Body Acoustic
4.
While this guitar isn't the best of the best by any means, it's a solid budget option for beginners. (The same general idea applies to most other Yamaha acoustic guitars as well.)
The sound is impressive, and the overall quality seems higher than you might expect for the price.
Unfortunately, the action is too high for some people, so it may tire out your hand or hurt your fingers unless you have it adjusted at a guitar shop (which may cost about $80, on average).
It also doesn't come with any accessories, nor an electric pickup, and doesn't have the cutaway shape that would make it easier to play high notes.
It's a pretty basic option, but a lot of people really like it, and it may be a good starting point if you're on a budget.
What I Like
Good value for the price
Impressive sound quality
Stays in tune fairly well
Relatively inexpensive
What I Don't Like
Action from the factory too high for some people (may need to be adjusted)
Does not come with any accessories
Budget Pick
Best 12 String: Oscar Schmidt OD312CE 12-String Acoustic-Electric
5.
First of all, this is a 12-string guitar, so obviously that's a huge difference from the rest.
Most people wouldn't think of a 12-string as their first option, but it can work well for playing rhythm blues, and the additional strings provide a richer sound.
The price is reasonable, and most people find the action to be fairly low and easy to play (though 12 strings will always be a little harder to press down compared to 6).
It's an acoustic-electric, so you can plug in for a concert or jam session, and it also has a built-in tuner for convenience.
The tuning can be a little finicky to get just right and may drift out of tune when you're not using it.
The panel buttons (for the pickup and tuner) are also a little stiff.
Overall, this is a very reasonable option that I'd recommend if you're considering a 12-string guitar.
What I Like
Great value for the price
Low action – easy to play (for a 12-string)
Acoustic-Electric
Built-in tuner
What I Don't Like
Tuning can be finicky
Electronic buttons small and stiff
Flimsy packaging (some reports of arriving damaged)
No pickguard / scratchplate
Best 12 String
Best Small Guitar: Little Martin LX1E Acoustic-Electric
6.
Like the Taylor mini listed above, this is a smaller guitar that despite its size has excellent tone and volume.
It's lightweight which makes it easy to transport and easy to hold. It's also ideal for people with small hands.
Most people find it has an easy, low action (though this can vary for each individual guitar).
It's also acoustic-electric in case you ever need to plug in to an amp.
This guitar is a little more on the expensive side, but otherwise seems like a really good choice for beginners as well as more experienced players.
What I Like
Acoustic-Electric
Lightweight and small
Amazing sound
Low action (in most cases)
What I Don't Like
Not ideal for large hands
Built-in tuner is not the best quality
Best
What Is a "Blues Guitar"?
Blues music started in the 1870's in the Deep South of the United States, and eventually influenced pretty much every music genre (rock, country, etc).
But blues is more a style of music than a type of equipment, so there's not any one feature that defines a blues guitar.
Can You Play Blues on an Acoustic Guitar?
Early blues guitarists (playing country blues or delta blues around the depression era) were usually very poor. As a result, they used whatever equipment they could find, typically acoustic guitars with steel strings.
So yes, you can certainly play blues on an acoustic. When blues started, that was the only option!
You might even say that the most "authentic" blues guitar is a dusty old acoustic with rusty metal strings. 🙂
Nowadays, pretty much any guitar can be a "blues guitar" (including electric guitars).
What Does a Blues Guitar Sound Like?
To give you a little taste of a blues guitar in action, here's a recording of Robert Johnson (considered one of the greatest blues guitarists) in 1936. Try to imagine the look and feel of his guitar as you listen.
What to Look For in a Blues Acoustic Guitar
As mentioned above, you can play the blues on just about any guitar (including electric guitars, but we'll focus on acoustic here, since that's what the original blues guitarists used).
Is there anything you should look for in a blues guitar?
Here are a few things to consider.
Blues Guitar Strings
I mention strings because it's a common question, but the bottom line is they don't matter that much.
As noted above, early blues guitarists typically used steel strings, and these were probably simple and inexpensive.
Likewise, you could start with something simple and not too pricey. One good option is this Earthwood Rock & Blues set, which is a great value for the money.
Feel free to try other strings as well until you find some that are comfortable and easy to play.
Does Body Style Matter for Playing the Blues?
Some older blues guitars used so-called "ladder bracing" (a pattern of "struts" or supports inside the guitar body), but should you care?
Probably not, and unless you're restoring an old guitar you most likely won't find special types of construction that were used back then anyway.
So unless you're a real stickler, or a pro, any body shape will do.
That being said, you might consider getting a "cutaway" (like the image below), since that makes it easier to play really high notes when you're soloing. This is true for any style of music, not just the blues.
Pick a Low Action Guitar
Guitar "Action" (the space between the strings and the fretboard) may be the most important feature to look at.
As you'll see in the videos below, playing the blues involves a lot of hammering (using your left hand to "hammer" down on a string after strumming or picking it with your right hand).
Hammering is much easier on guitars with low action (shorter distance) because you don't have to push the string down as far.
Sidenote: Higher action may be better for playing "slide guitar" (sliding a smooth cylinder up and down the strings to change the note), which has been popular off and on among blues guitarists.
While it depends on your goals, I think low action is preferable for most beginners (especially on a kid's guitar). It's not only better for hammering, but easier to play in general.
Are You Authentic?
If you really want to be like blues guitarists from the early 1900's, you may want to get the cheapest, shoddiest guitar you can find. These are best found at your local pawn shop, at a garage sale, or in your grandma's basement.
(I'm kidding…but my first guitar actually did come from a pawn shop, as a Christmas present. And the rest is history, as they say.)
What Does Playing the Blues Look Like?
Playing the blues can be as simple or as fancy as you like.
I find it easy and relaxing to sit down and play some blues chords, maybe even make up some lyrics on the fly.
Other people get fancier with their soloing and improvisation.
Let's look at a couple examples (from beginner to advanced) to give you a better idea what to expect.
This first video shows some basic blues chords that you could learn in a few minutes (and maybe use to impress your friends by writing a song about them):
Once you get the basic chords down, you'll be able to play a wide variety of songs, including some relatively easy ones. Later, you can learn fingerstyle and other more advanced techniques.
And eventually, if you practice enough, you may be able to jam like this guy.
Don't worry though, nobody expects you to play like that right away. It's just here to give you an idea of what's possible.
When you're first learning, just stick with some basic chords (and easy songs), and you'll be fine.
Conclusion
Learning the blues is fun and fairly easy for beginners and more advanced guitarists alike.
Once you learn a few chords and some basic strumming, you can play a variety of songs (or even write your own).
A lot of people wonder what kind of guitar they should get for the blues. While the exact style doesn't matter that much, there are a few things you should pay attention to when buying a blues guitar.
These include the type of strings (typically steel), the "action" (lower is better), and how "authentic" you really want to be.
In this article, I've reviewed several options with a range of prices and features to help find the best blues acoustic guitar for your needs.
Of those guitars I reviewed, my top pick is the Fender CD-60S Acoustic because it has all the key features you would want for a blues guitar (low action, great sound, cutaway, acoustic-electric) at a price that seems reasonable.
Regardless of what guitar you buy, I hope you enjoy playing the blues.
Thanks for visiting!