Note: I assessed the best acoustic guitar pedals, and chose the top option from within 5 pedal subcategories. See list below the intro for specific details.
If you play acoustic guitar, you might feel reluctant to purchase a pedal. The sound of your acoustic guitar is great as it is, so why modify it? I get it.
On the other hand, the natural sound of your acoustic guitar can lose its vibrancy when you have to rely on a microphone during a live performance.
Fortunately, there's a way to add life to your acoustic tone: By investing in an acoustic guitar pedal.
A guitar pedalboard will help to both balance and enhance the tone of your acoustic guitar, and I'm here to help you discover which pedals are deserving of a spot on it.
Below, you'll find a reviews of some of the best acoustic guitar pedals, each one from a different effects category.
While they serve different functions, each pedal on this list will give you more control over your acoustic tone, and help you to achieve vibrancy during live performances.
Best Tuner Pedal: KLIQ TinyTune Tuner Pedal
1.
If you're just in the process of building your first pedalboard, you'll want to start by investing in a tuner pedal, especially if you play live gigs.
I've selected the KLIQ TinyTune Tuner Pedal because it offers fast tuning that doesn't compromise on precision.
Whether you're playing to a crowd or practicing at home, it's easy-to-read display features a large, color screen that offers fantastic visibility under all types of lighting.
So, even if you're playing in a dimly lit venue, this pedal will have you covered.
When put to use, the TinyTune will completely mute the input signal when you're tuning, and directly routes the signal to the output when you're not.
Thanks to that, you won't hear any annoying popping or hum noises while you tweak the strings.
Some people have found that it can lose its frequency during tuning, which means that they have to switch it on and off to restart it.
This isn't a huge drawback, but it could be frustrating if you were in the middle of a set and pressed for time.
Unlike other tuning pedals, the KLIQ Pedal has been designed with simplicity in mind.
There aren't any confusing features or hidden buttons on the sides, and the simple display interface makes it really easy to tune, even if you're a beginner.
Plus, for total convenience, the tuner system is housed within a mini pedal that's designed to slot itself on any pedalboard and, thanks to it's smaller size, it's easy to travel with, too.
The rugged aluminum on the outside will also ensure that the components on the inside stay protected, all the while being durable enough to take a few hits and bumps.
Whether you're a regular performer or honing your technique, this pedal will help you to sound your best every time.
If you'd like to see a demo of this pedal in action, check out this video.
What I Like
Zero noise while tuning
Delivers speedy tuning with impressive precision
Convenient display screen offers great visibility in low-light situations
What I Don't Like
Prone to scratches
If turned off, it doesn't retain its frequency
Best Tuner Pedal
Best Reverb Pedal: Donner Digital Reverb Pedal
2.
Reverb plays one of the most crucial parts in your guitar's tone, which is why I think that a reverb pedal is a must-have for any acoustic player.
If you plan on playing your guitar to a crowd, relying on natural reverb is a recipe for disaster.
The Donner Digital Reverb Pedal is a great pedal for not only maintaining the tone of your acoustic guitar but enhancing it, too!
It features a digital circuit design that hosts a variety of reverberation effects, including hall, church, spring, plate, studio, mod, and room.
It has three function knobs: E.LEVEL, DECAY, and TONE, as well as 7-Mode reverberation effects you can pick and choose from depending on your venue and preference.
The reverb effect is surprisingly strong, with many people finding that they need to use it on a low setting.
For extra convenience, the classic mini size is convenient and durable and will slot itself onto even the smallest of pedalboards, while the simple 3 switch design will make using it uncomplicated and streamlined.
Ideal for your acoustic, its true bypass switch will let your guitar's sound pass through a non-electronic bypass line when the effect is disengaged, feeding your amp with the direct signal from your instrument (in other words, clear sound, and tonal vibrancy!).
What I Like
Portable and convenient
7 reverberation effects to suit all kinds of venues
Simple user interface for fuss-free navigation
What I Don't Like
Some find that it can be noisy
A handful of users have reported it to be 'artificial' sounding
Want to learn more about how reverb plays a part in acoustic tone? Check out this video.
Best Reverb Pedal: Donner Digital Reverb Pedal
Best Compression Pedal: MOOER Acoustic Guitar Effect Pedal
3.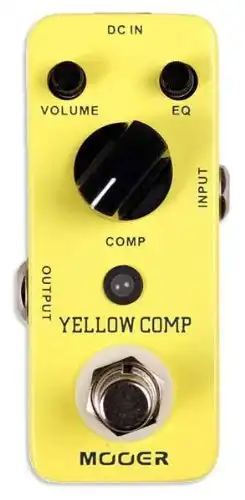 Next up? A compressor pedal! If you didn't already know, a compressor pedal works to reduce the gap between the loudest part and quietest part of a signal, which is why it's an essential part of all acoustic guitar players' pedalboards.
A compressor will preserve the tone of your acoustic, all the while making the actual volume differences between your pedals less noticeable. Pretty smart, right?
In my opinion, the Mooer Yellow is one of the best compressor pedals on the market right now.
It enhances tone well, has a very natural sound, and preserves the original sound transients, which will allow for a realistic and authentic acoustic sound.
Unlike other compressor pedals on the market, this one is best for a more subtle 'sweetening' which is most ideal for acoustic guitars as that means that it won't distort the sound.
Plus, thanks to this, it doesn't need a blend knob, so it's really easy to use.
Another feature that I like about the Mooer Acoustic Pedal is how small it is.
It's great for conserving pedalboard space, and is super lightweight, making it a great choice for acoustic players that spend a lot of time on the road.
Check out this demo of how it works.
What I Like
Lightweight and portable
Helps to balance signals from multiple pedals for a smoother overall tone
Offers a subtle effect, making it ideal for acoustic guitars
What I Don't Like
Compression difference may be too subtle for some players
Not overly durable
Best Compression Pedal: MOOER Acoustic Guitar Effect Pedal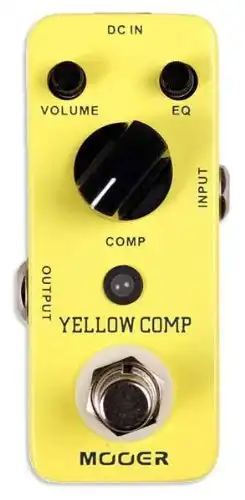 Best Delay Pedal: Donner Multi Digital Delay Pedal
4.
If you want to add depth to your tone, a delay pedal is a perfect way to do so. It lets you get away with not being accompanied by drums and bass, making it ideal for acoustic guitar soloists.
The Donner Multi Digital Delay Pedal is a bestseller for a reason! It features 7 mode delay effects to help you get the most out of your performance, including digital, analog, tape, mod, sweep, Lofi and, reverse.
It features three function knobs for quick and uncomplicated navigation. MIX is used to control the dry signal ratio, the TIME function is used for controlling delay time, while the F.BACK function is used to control the amount of feedback.
When in use, this delay pedal will help to thicken the tone of your guitar and create an atmospheric sound landscape, depending on how slow or fast you want playback to be.
Unlike other delay pedals, it'll also allow you to incorporate some interesting sound effects, such as Lofi, which is a popular sound genre on youtube.
This pedal can be noisy at first, but it can easily be silenced by tweaking the signal.
Not only that, but It's made of whole aluminum-alloy classic, so it's sturdy and durable enough to handle a few knocks.
It also features a handy LED indicator that will help to alert you as to whether it is turned on or off.
You can check out a demonstration of how to use it via this video.
What I Like
Unlike other delay pedals, this one allows you to add different sound effects to your acoustic's tone
Durable, sturdy design
What I Don't Like
Can't be used in direct sunlight, so may not be suitable for outdoor performances
Best Delay Pedal
Best Loop Pedal: Nux Guitar Loop Pedal
5.
If you like to get experimental while performing or recording, why not add a loop pedal to your pedalboard?
The Nux Guitar Loop Pedal is a longstanding favorite in the acoustic guitar community.
Allowing you to record and overdub as many layers as you like, the Nux Guitar Loop Pedal will help you to add all the elements needed to make a song, even if you're playing alone.
For extra ease-of-use, the Nux Loop Pedal has the capacity to remember 99 patterns, making it ideal for those who regularly perform the same songs.
All you have to do is connect a microphone to the 'Aux in' and the pedal will save the recording into a file.
Ideal for solo artists and producers, it even features a 'Smart Rhythm' section that can play 40 drum patterns via your amp to create a tempo.
While playing your acoustic guitar alone, you'll find the drum rhythms really helpful to strum along with, and the additional percussion will help to 'thicken' your overall sound.
A feature that stands out to me is that it allows you tochange the playback tempo, something that not all loop pedals offer.
While performing, this pedal will be able to change the tempo of your recorded phrases without changing the key, and its compact size will fit onto many pedalboards.
The only downside to this loop pedal is that the manual is very misleading and difficult to understand.
Luckily, there's some helpful tutorials out there that make decoding the buttons a breeze. Here's my favorite.
What I Like
Can save up to 99 unique music recordings
Features 40 built-in drum melody patterns
Has the capacity to hold up to 6 hours of loops
What I Don't Like
Some users find the display screen confusing to navigate
Best Loop Pedal
Buying Guide
Types of Acoustic Guitar Pedals
As you'll have seen from my reviews above, there's a variety of guitar pedals available.
Each pedal type offers unique benefits to your acoustic guitar's tone and your playing experience. Let's check out the differences between them all:
Tuner Pedal
An acoustic tuner is a pedal that's going to help keep your guitar in tune. They work by picking up the sound of your instrument and then helping you to tune it by ear.
While this type of tuning technology may seem outdated, these types of tuners are the most versatile to own, as they can be used with almost any instrument.
Reverb Pedal
A 'reverb' occurs whenever a sound hits a hard surface and reflects back to the listener at varying times which creates an echo-like sound.
The addition of reverb pedals to your pedalboard will exaggerate natural reverberations, and often come with a variety of options that emulate the reverb you would get from playing in a church or other types of venues.
You can learn more about reverb here.
(By the way, reverb can sounds kinda cool if you're using a ceramic guitar slide.)
Delay Pedal
A delay pedal works by recording a melody and then playing back the music fed into it.
When playback is rapid, a delay pedal produces an instant, snappy reverberation of what was played.
With long extended playback times, delay pedals produce cascading walls of sound, which is wonderful for creating ambient sound landscapes.
Compressor Pedal
A compressor pedal is a type of stompbox pedal that will sit in your signal chain and levels the overall dynamics of your guitar's tone.
If you're strumming quietly or like to focus on fingerpicking patterns, a compressor will be able to boost the output to make it more audible.
In contrast, if you accidentally strum too forcefully, the compressor will work to dull the sound so it won't be too harsh to the ears.
Chorus Pedal
A chorus pedal isn't necessary, but it does offer an interesting effect.
Essentially, it is a type of modulation effect that's purpose is to thicken your acoustic guitar's sound by making it sound as though there are multiple acoustic guitars (a chorus of them) all playing the same part.
Though this won't be to everyone's stylistic taste, a chorus works really well when playing in a band, or for creating a more enhanced natural reverb when playing in larger venues.
Loop Pedal
A loop pedal will record a melody that you play on your acoustic guitar and then repeatedly play it back to you on a loop.
Once it is played back, most loop pedals allow for overdubbing new passages over the first one, as well as giving you the option to change the tempo.
It's a really great way to add layers to a song, especially during live performances.
Ed Sheeran is known for using loop pedals in some of his earlier musical performances.
He's even made a mini-tutorial on how to use them, which you can check out below:
FAQs
How Do I Set Up A Pedalboard? 
The idea of a pedalboard can certainly be daunting, especially if you've never had one before. However, the reality is very different.
All you'll need to do is take your existing pedalboard or purchase a new one, and then go ahead and fit your acoustic guitar pedals onto it. It's as easy as that!
Many people believe that there should be a strict 'order' that should be followed when lining up your pedals on your board.
However, you'll probably tweak the pedal order depending on what feels right to you. 
If you want some help in building your pedalboard, check out this helpful guide.
Final Thoughts
I hope you found this review of the best acoustic guitar pedals helpful!
If you're looking for other cool effects, why not check out my reviews of the best EQ pedals, the best audio interfaces under $500, or the best bass fuzz pedals?
Happy Strumming!