Wanna cut to the chase? I went searching for the best baritone guitar, and my top pick was the ESP LTD BB-600.
Baritone guitars have had a huge impact on music for decades.
These guitars are responsible for some of the most iconic guitar sounds in music, including famous songs such as 'Crazy' by Patsy Cline, and the heavy riffs in 'Sad but True' by Metallica (see the video below).
I'm excited to see the baritone guitar becoming more and more important in contemporary music, too.
This versatile instrument is key to creating a range of immense sounds that can truly change the entire tone of a musical piece.
If you love the baritone guitar as much as I do, you may have ventured here to find one of your own!
Baritone guitars are certainly plentiful on the market, so it can sometimes be a challenge to find one that will fit your unique musical needs.
Thankfully as fellow a guitarist and music lover, I've had my fair share of experience finding great guitars to suit all sorts of styles.
If you're looking for the best baritone guitar, read on for my personal favorites.
Further down, you can also find a buyer's guide to helps answer your lingering questions.
Top Pick: SP LTD BB-600
1.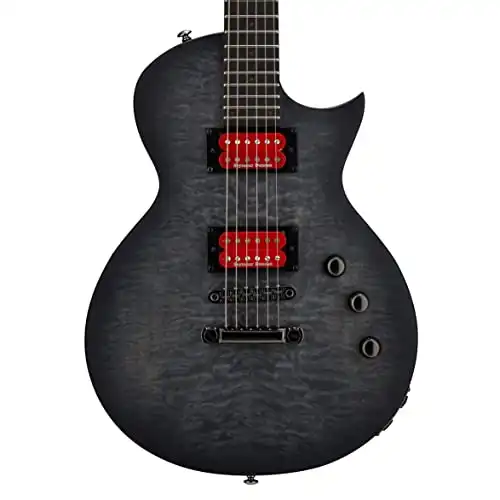 If you are looking for an attractive Baritone guitar, then the ESP LTD BB-600 may be a good choice for you.
This guitar is one of the most well known models to come from ESP, and it has been designed for experienced guitarists that want to add a rich sound to their tracks.
This guitar features a distinctive sound as a result of the Seymour Duncan and JB pickups. It also provides a wide variety of sounds.
Many guitarists may struggle with the belief that baritone guitars are only capable of one thing. There is such a great tonal variety on offer with the BB-600 that this is certainly not a concern.
The guitar comes with two different output jacks, which means that you can use two different amplifiers. If you are going to be performing on stage, this is certainly a welcome feature.
You will also be pleased to know that this guitar features a sleek, attractive appearance. Appearance is a subjective thing, but I'm pretty fond of the Black Sunburst Satin Gloss on the body of the guitar. It will certainly make you stand out from the crowd.
It also has red pickup covers, and even has a Breaking Benjamin symbol. It's certainly a very eye catching design.
Of course, there is one big elephant in the room with this guitar: the price. If you are a beginner or you are on a budget, this may not be the best option for you.
What I Like
Very versatile
Works well for live performances
Appealing, unique design
What I Don't Like
Costs a considerable amount of money
Top Pick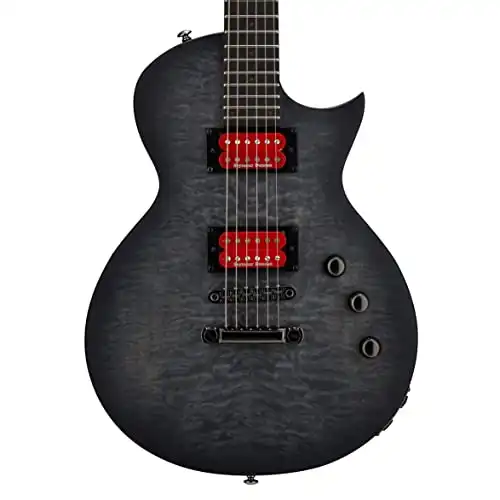 Editor's Choice: Alvarez ABT60ESHB
2.
You will find a great number of electric baritone guitars on the market. Acoustic baritone guitars are somewhat more difficult to come by.
The Alvarez ABT60ESHB is a fine choice if you are looking for an acoustic guitar that can give you those deep, baritone sounds to make your music sound truly distinctive.
This guitar features a classic mahogany body and a Sitka A+ spruce top, so it looks just like a regular guitar but with a totally different sound.
In addition to this, you can truly have the full vintage feel with the C-shaped neck. It's ideal for exploring deeper tones.
This guitar has a scale length that varies from 27 inches to 32 inches. You can decide what you prefer online. The low frequency sound is more clear on longer scale length guitars, so that is something that you should consider.
This guitar is easy to play, with a rosewood surface fretboard that is smooth to the touch.
It also comes with an impressive two year warranty, providing you with extra peace of mind in the event that you aren't happy or the product has faults.
If you are looking for an affordable option, then this is certainly one that is worth your consideration.
It should be noted, however, that the tonal variety is somewhat limited, so it may be a better option for a beginner who is just finding their bearings with baritone guitars.
What I Like
Classic, vintage appearance
2 year warranty agreement
Decently priced
What I Don't Like
Not a great deal of tonal variety
Editor's Choice
Best Value: ESP LTD Viper-201B
3.
The ESP LTD Viper-201B is my second pick from ESP on this list. As I've mentioned, this brand is known for their high quality baritone guitars, and they have been on the market for decades.
This guitar certainly has many of the features that you may expect from a more premium offering, but it's available for an affordable price.
This guitar features a high end look with a mahogany body. This body isn't just for aesthetics, however, as it is great at helping you to achieve a warmer tone.
The neck also has a maple construction, and this helps to make sure that it is stable and strong.
If for some reason you feel like smashing up your guitar in a blind rage, you may have a hard time doing so with this option. Though, I can't say this is something that I recommend!
This guitar is a decent option if you are often out traveling on the road with your guitar, as it is lightweight.
Furthermore, it is pretty versatile, meaning it can work well for a range of different music genres.
What I Like
Good value for money
Lightweight
Decent playability
What I Don't Like
Tuning stability could do with some improvements
Best Value
Runner Up: Gretsch G5260
Featuring a mahogany body and a bolt on maple neck, the Gretsch G5260 is a classic looking guitar that is capable of instilling confidence in its players.
The guitar features a scale of 29.75 inches. It has a laurel fingerboard too.
This guitar is a decent choice for guitarists that want to add an atmospheric country bassline to their latest track. It's also rather versatile, and could easily fit with surf rock tracks or even alt metal.
This guitar also features dual Gretsch mini humbucking pickups that are able to emphasize the lows of your musical piece.
This guitar is also very comfortable to play, with a neck that's designed to remain cosy even after you've been playing for a number of hours.
With that being said, some guitarists may not be too fond of the design (that's meant to look more vintage), and the tone is certainly not for everyone.
What I Like
Comfortable to play
Ideal for lower tunings due to longer scale length
Pleasing design
What I Don't Like
The design has been subject to some divided opinions – not all guitarists are fond of it!
Runner Up: Squier Paranormal Baritone Cabronita
5.
Baritone guitars are a pretty uncommon instrument. That's why I was pretty shocked to see just how affordable the Squier Paranormal Baritone Cabronita Telecaster guitar is.
This guitar provides more than just good value for money, however.
The vintage style of this guitar in both style and appearance makes it ideal for – you guessed it – vintage music.
It's also a good choice if you want to play the blues or alternative rock.
This guitar is comfortable to play, with a telecaster body shape. The body of the guitar consists of poplar, with a maple neck and an Indian laurel fretboard.
This guitar has a scale length of 27 inches and it has a total of 22 frets.
It is also durable and will last you for quite some time.
If you're a beginner this is also a great choice, as it is very easy to play.
Of course, as it is slightly cheaper than a lot of other baritone guitars it doesn't have as many features so that is something to keep in mind.
What I Like
Good value for money
Ideal tone for alternative rock and blues
Durable
Runner Up
Best Baritone Guitar: A Buyer's Guide
What makes a baritone guitar so different from a normal guitar?
If you're buying a baritone guitar for a loved one, you may not be knowledgeable in the world of music. Not to worry – I'm here to help!
Nobody truly knows when the baritone guitar was really created – some emerged in the 1800s. The Baritone Guitar as we truly know it, however, emerged in the late 1950s.
The term baritone is usually used in reference to voice. A baritone voice refers to a male singing voice between tenor (a higher-pitched voice) and bass (a lower-pitched voice).
In the same logic, a baritone guitar is a middle ground between your standard electric guitar and a bass guitar. The pitch of a baritone guitar is simply lower than that of your standard electric guitar.
Usually, baritone guitars are tuned from low to high in this order: B, E, A, D, F#, B. On occasion, baritone guitars will also be tuned lower by a full octave or a fifth. With that being said, the chord fingerings are exactly the same as on a standard guitar.
Baritone guitars also tend to have a longer scale length than your standard guitar. They usually have a scale length ranging from 27 to 30.5 inches.
These guitars usually create a darker sound. This makes them fantastic for a range of genres, such as jazz, country and rock. Currently, they are most popular in heavy metal.
Things to Consider
There are a number of things to consider when you're buying your guitar. Take it from me – you don't want to buy the wrong guitar that makes you sound terrible performing in front of an audience! I've been there – it's not fun!
Length of Scale
Generally, a baritone guitar is better suited to someone that is able to play a standard guitar but wants to play around with a lower sound.
That's not to say it's a bad choice for bass players that want to play higher!
The reason for this is because the baritone guitar has a six-string design and chord fingerings – something not present on the bass guitar.
On that note, it is important that your baritone guitar is similar to your normal guitar in terms of shape. This way, it will be more comfortable for you to play. It will also make it easier to adapt to playing the new guitar.
If you feel comfortable playing your guitar, you are more likely to play it.
Tuning Stability
Tuning a guitar can be pretty difficult when you're just starting out.
I wasn't quite sure why those riffs in Wonderwall by Oasis were sounding so out of tune! (Of course, that could also be down to inexperience with tuning – if you're new to tuning guitars, here's a handy guide to help you out!)
To avoid my mistakes, it's important to find a guitar with good tuning stability to help you out. This means avoiding models with cheap nuts, poorly filled frets, and models that don't have locking tuners.
This can be a pretty common problem in entry-level guitars, so make sure you stay alert. If you are ever unsure, look online for other customer reviews to see if there have been any common complaints in this area.
Playability
As I've already said, comfort is extremely important when it comes to playing the guitar.
Baritone guitars generally tend to be larger than standard guitars are, so it's important that the guitar that you choose has a neck profile and body shape that will be comfortable for you to hold.
If you're straining to play it properly, the chances are that any music you create isn't going to be that great, which is why playability is so vital when selecting your instrument.
Price
When you're buying a product, instrument or otherwise, it's important to create a budget. Of course, the more you pay for a baritone guitar, chances are the higher quality it will be.
This is not always the case, as it is sometimes possible to find options that are more affordable.
Unfortunately, baritone guitars can be quite expensive so it can get difficult to find a decent option if you do have a lower budget.
If this is the case, then you will need to make a few decisions.
Think about what features you absolutely need, and what you can live without. If you are more experienced, you will likely want a more high-end guitar because it will last longer.
If, on the other hand, you are just starting out, you can often afford to spend a little less, as you will likely need to upgrade later on anyway.
Electric or Acoustic?
You can get baritone guitars in both electric and acoustic versions.
You will usually find that the options that are more affordable are acoustics. The most expensive ones are electric as there is more complicated technology needed to create the guitar.
It's important to consider which option is best for you in advance, as the type of guitar that you get can influence the sound of the music.
Looks
When you're performing, you want your guitar to look as good as the music sounds, right?
When you're looking for a new baritone guitar, looks are always something that you should take into consideration. Your decision here will largely come down to personal preference.
Besides this, getting a guitar that you think looks good can give you confidence to pick it up and play.
You shouldn't always judge a book by a cover, but you're more likely to pick up a book that has an appealing cover, right?
Warranties
Guitars can cost a lot of money.
With that being said, you want to make sure that your purchase is being properly protected, right?
Getting a decent warranty is essential when you are buying a baritone guitar. It means that the manufacturer will be able to fix any faults, and in some cases, replace the product entirely if it's faulty.
Generally, warranty agreements will last around a year, but there are some that provide lifetime agreements instead.
FAQs
Can you use a baritone guitar instead of a bass guitar? 
It is certainly possible to use a baritone guitar instead of a bass guitar.
Of course, it should be noted that these are two different instruments. It's only natural that they will create a different kind of sound when they are played.
As a result of this, you should always consider the sound that you wish to achieve before you buy. For instance, the punchy beats you get from a bass guitar aren't the same on a baritone guitar.
If you aren't sure about whether you should play bass guitar or baritone, here's an article covering some of the reasons why you should consider playing bass guitar.
Can you only put baritone strings in a baritone guitar?
In theory you could put baritone strings in a standard guitar but this isn't recommended. A baritone guitar has been designed to really enhance those lower frequency notes. 
You aren't going to get that same richness of sound with a standard guitar. If you want to truly get the best sound, don't skip out – get a baritone guitar.
Conclusion
So those are just some of the best baritone guitars on the market. Hopefully my buyer's guide and product selection will help you to make the best decision for you. Rock on!