If there's one thing that can make anyone sound like a bad guitarist really quickly, it's an out-of-tune guitar!
One of the first things we all learn when starting off is how to tune a guitar. It's kiiiiind of important if you want to sound good.
Can you believe my first tuner was a little set of pitch pipes? Yep – no fancy electronic thing!
It worked well, but these days you can get electronic tuners that make the job super easy, like the Snark tuner series.
I'll be doing a Snark tuner comparison so you can see if this popular brand is worthwhile and which one of their tuners would be right for you.
They have a lot of them!
Are Snark Tuners Accurate?
The short answer is that Snark tuners are accurate enough for most guitarists.
Snark tuners seem to have a reputation of being slightly inaccurate. If you're a professional, you might want to go for a different tuner that's extremely precise.
But for amateurs, intermediates, and even advanced guitarists who don't need absolute precision, the Snark will be as accurate as you need.
If you do need something more precise (like you would for a fretless guitar) and would like a Snark, the ST-8HZ is said to be accurate to within 1/10th of 1 Hz.
That said, sometimes the accuracy is not a fault of the tuner, but instead something simple that can be easily fixed.
What Can Affect The Accuracy of a Tuner?
Things that can make a guitar tuner seem inaccurate include:
Low batteries
Background noise (for console tuners especially)
A loose fit (for clip-on tuners)
How Do You Calibrate a Snark Tuner?
Since 1939, 440Hz has been the standard pitch that guitars are set to. This means that the A string vibrates at 440Hz, and it's known as concert pitch.
It's not necessary for you to understand the ins and outs of it, though. But you may have seen an adjustable calibration (Pitch Cal) on your Snark tuner, which allows for you to choose from 415 – 466Hz.
If your tuner can be calibrated, here's how to do it:
Attach your tuner to your guitar and switch it on.
Push the "Pitch Cal" button on the back of your tuner.
Use the up and down buttons to select a new frequency.
It's that simple!
Most guitarists are never going to need to change the standard calibration, though. I've never used a different calibration in all my years of playing!
An Overview of Snark Tuners
Snark guitar tuners are popular choices, due to their eye-catching, bold, and easy-to-use design.
They have a very wide range of different tuners, including clip-ons, console tuners, and even pedal tuners.
Some are specifically for guitar and/or bass, and others have settings for violin or other stringed instruments, as well as a few specifically for ukuleles.
Different models have slightly different LED displays, but they all look pretty cool and show the pitch very well.
They're relatively affordable, and have enough options for almost any guitarist to find something suitable.
Snarks would be a solid option for beginner, intermediate, or advanced guitarists. For pros who want the most accurate tuner possible, something else might be better for you (like the Peterson StroboClip HD Clip-On, which we'll talk more about later).
The pros and cons below refer to Snark tuners in general, and I'll go into more detail about individual ones further down!
What I Like
A variety of types available.
Bold, colorful design.
Easy to use.
Options for guitar, bass, violin, and ukulele.
Some are able to be calibrated.
Some have a metronome feature.
Power save function.
Run off CR2032 (clip-ons) or AAA batteries (consoles).
What I Don't Like
The clamp isn't the most durable when it's used very regularly.
May be slightly less accurate than some others.
Regular use of the clip-on may damage your guitar finish.
Snark Tuner Comparison List
I'll do a brief review of each type of Snark tuner, who it's best for, and what's great about it.
You'll find clip-on tuners that clamp onto the guitar head, console tuners which you may or may not need to plug into your guitar, and even a pedal tuner which your guitar will be plugged into.
By the end of this Snark tuner review, you should have a better idea of which one would work best for you.
Clip-Ons
Snark SN-1X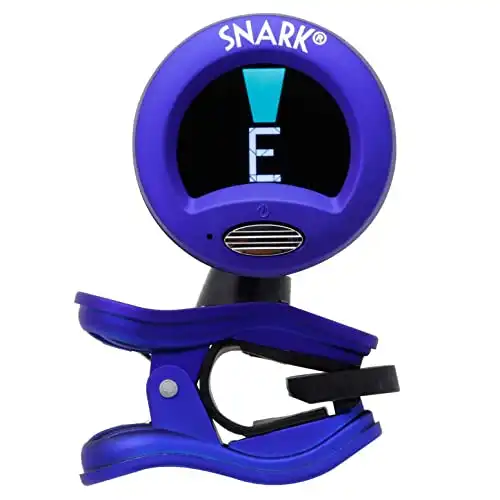 The SN-1X is one of the Original Snark tuners. It's easily distinguishable by its bright blue color.
It's a chromatic tuner, which means it can tune to any note by picking up on the string's vibrations through your guitar – not just the standard notes of EADGBE.
This is one of the Snarks that can be calibrated, but most guitarists won't need to use that function.
It also sports a built-in metronome function, and something called "Flat Tuning", which allows you to tune your guitar while using a capo (if you aren't sure what a capo is, check out this article!)
It's a good choice for guitarists looking for something eye-catching and effective, and who may use the metronome for timing or calibrate it differently.
Check this out for how to use a metronome to improve your timing.
Features:
Guitar only
Adjustable calibration. So basically my only
360-degree rotation
Flat Tuning (good for capos)
Built-in metronome
Snark SN-5X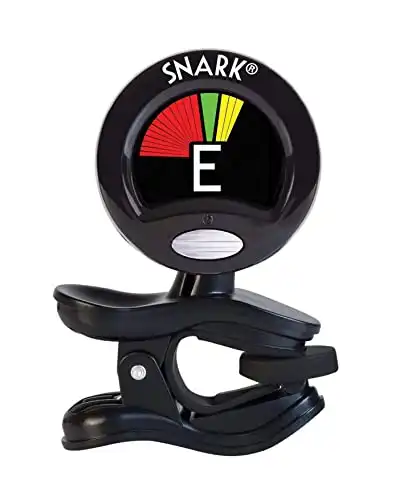 The SN-5X is slightly different to the SN-1X. Firstly, it can be used to tune guitars, bass guitars, and other stringed instruments like violin or mandolin.
You won't be able to adjust the calibration on this tuner, but it still has a metronome function and a 360-degree swivel head for easy use by right and left-handers.
It's a good choice for guitarists who play other stringed instruments too!
Features:
Works with all stringed instruments
No calibration feature
360-degree swivel
Metronome function
Best Simple Tuner: Snark N-5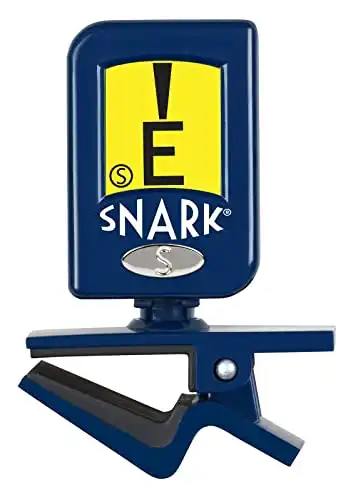 The Napoleon 5 is a different shape to the classic round Snark tuners, but it's just as effective.
You won't find any fancy built-in functions on this little, lightweight tuner. It's a simple guitar and bass tuner, with the whole LED screen glowing green when you hit the right note.
The Napoleon also comes with a removable pick holder that can take up to three picks at a time.
It's a good choice for guitarists who want something simple and to-the-point, without any frills.
Features:
5 x 1 x 2.5″
Rectangular shape
Tunes guitar and bass
Removable pick holder
No extra features
Snark S1 Son of Snark
Like the Napoleon, the Son of Snark is a different shape, this time square.
It's a chromatic tuner that picks up the vibrations in the guitar head and allows you to tune your strings to any note you wish.
Here's a quick guide to alternate tunings for beginners.
It's great for both left or right-handers who want an easy-to-use tuner. There are no features other than the tuner, which can be used for guitar and bass.
Features:
Square shape
Simple tuner
Suitable for guitar and bass
Most Features: Snark ST-2
The ST-2 is one of Snark's Super Tight series. It's built with extra grip-strength to make sure it never slips off your guitar.
This tuner is one of the most comprehensive of all Snark's products.
You can tune any stringed instrument with it, using either its onboard vibration detection or the internal microphone.
That means you don't have to actually clip it onto your guitar, but if you're using the mic you'll need to make sure there's not much background noise.
It also has a metronome for better timing, Power Saving mode (as do all Snarks), and a Transpose feature, which is like the Flat Tuning in the SN-1 for guitars with capos.
It's a good option for intermediate or advanced guitarists who want a little extra on a tuner.
Check out Snark's introduction to their Super Tight tuner series.
Features:
Suitable for all stringed instruments
Built-in mic for off-guitar tuning.
Extra grip strength
Metronome
Transpose feature
Most Accurate: Snark ST-8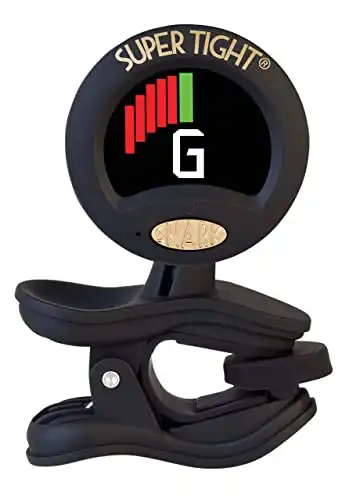 The ST-8 is pretty similar to the ST-2 above. It lacks an internal microphone, meaning it needs to be clipped on to work.
It can be used with any string instrument, but it's designed specifically with guitar in mind.
Other than the microphone, it has all the same features as the ST-2.
Features:
Extra strong grip
Metronome function
Transpose function
Designed specifically for guitar
Best All-Instrument Tuner: Snark ST-8HZ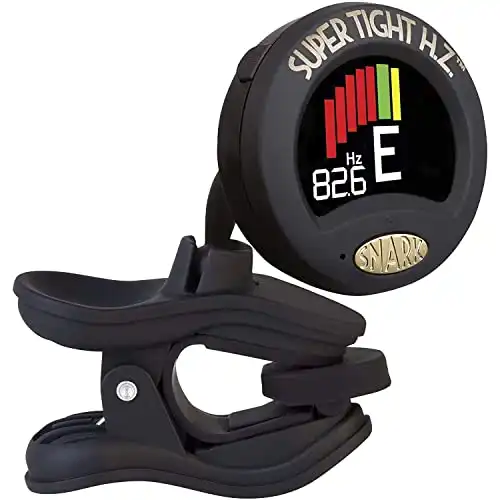 The ST-8HZ is perhaps the most comprehensive of Snark's clip-on tuners.
It sports all the same useful features as the ST-8, but it has one addition – Hz tuning. Now, most guitarists aren't going to make use of this.
But guitarists who want to calibrate their tuners to an unusual pitch might like that feature.
Features:
Hz tuning
Can tune guitars and 4 or 5-string bass guitars
Adjustable calibration
Metronome and Transpose feature
Consoles
Snark SN-3
If you prefer an old-school console tuner to a clip-on, Snark has a couple of consoles that are just as feature-packed as their clip-ons.
The SN-3 has a built-in mic as well as the option to connect to your guitar via jack cable.
In addition to its mic or jack note detection, it also has a tone generator, which basically acts like my original little set of pitch pipes! It gives you an audible note that you need to tune to.
You'll need to match your string tone to the one your tuner plays by ear, but it's a nice alternative to have, especially if you're trying to improve your musical ear.
Features:
Built-in microphone
Jack input
Tone generator
Adjustable calibration
Metronome
Snark SN-4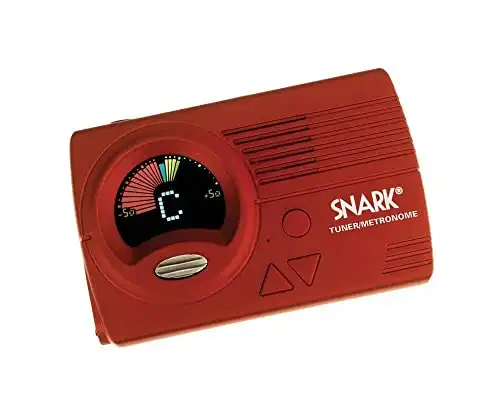 The SN-4 is juuuust about exactly the same as the SN-3. The biggest difference is the color! The SN-3 is blue, and the SN-4 is red.
The 3 is designed specifically for guitar, whereas the SN-4 caters for all instruments.
Features:
Built-in microphone
Jack input
Tone generator
Adjustable calibration
Metronome
Suitable for all instruments
Pedals
Best for Stage Use: Snark SN-10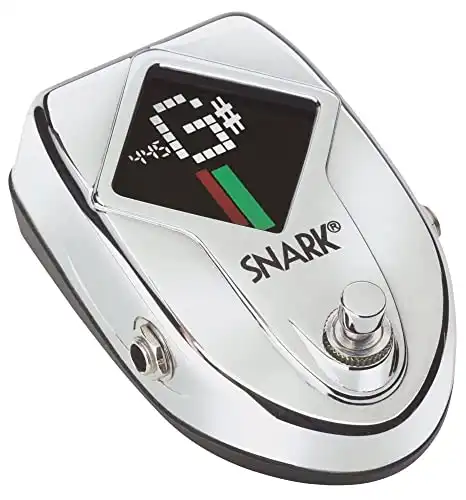 A pedal tuner is great for guitarists who spend a lot of time on stage.
Sometimes, you just don't have time to clip on or plug in a tuner and fiddle with it. The pedal tuner means you can tune on-the-go.
If you use other effects pedals, this tuner can be linked up in a chain but will mute the sound of your guitar when you're tuning. Don't get caught with the tuner activated when starting a song!
You won't find any other features – it's a dedicated tuner.
Features:
4.5 x 1.5 x 2.5″
Runs off a 9V battery
Die-cast metal housing
Alternatives
If you're unsure of the Snark, some other tuners you can look at are:
D'Addario Accessories Guitar Tuner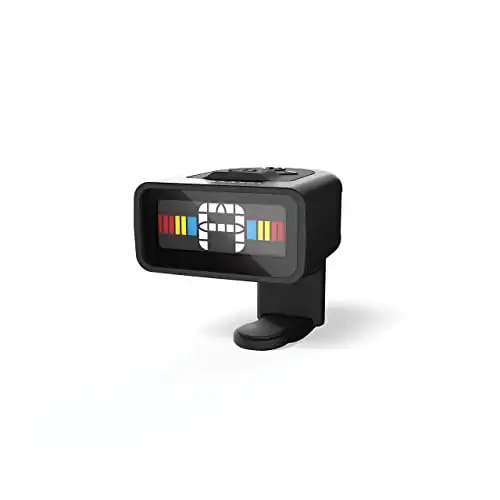 If you're looking for something simple and uncomplicated, the D'Addario is a good bet. It's small, looks cool, and comes in clip-free, clip-on, and universal.
So There Rechargeable Clip-on Tuner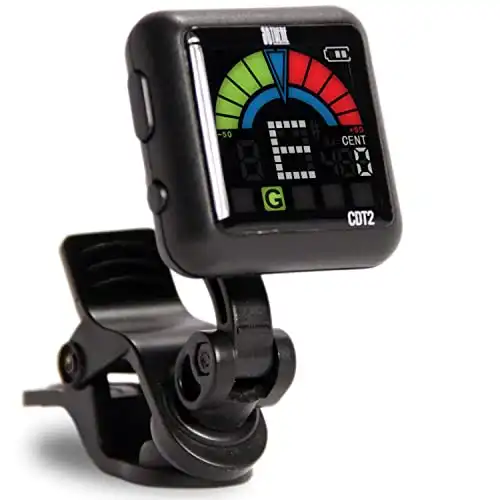 I love that this tuner is rechargeable. It comes with a USB charging cable and can be used for all stringed instruments. It also has adjustable pitch calibration.
Peterson StroboClip Clip-On Strobe Tuner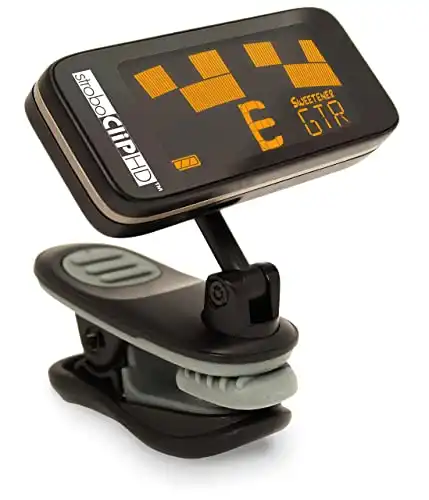 Peterson tuners are known for their accuracy. If you want something super precise, the StroboClip would be a good choice.
Final Thoughts
Hopefully, this Snark tuner comparison has given you a good idea of what kind of tuner you'd prefer and whether a Snark is right for you.
The Snark range is fun and funky, and does its job well, whether you choose a console, a clip-on, or the pedal.
There's something for every guitarist! Amateur, intermediate, or accomplished musicians should find a Snark to suit them.
If you're in the market for a tuner, why not give the Snark a try? Whether you're a hard rocker, an acoustic blues guitarist, or buying your kid their first guitar, a reliable tuner is a necessity.
As long as you look after it well, replace the batteries at the first hint of inaccuracy, and be careful when putting it on your guitar, a Snark should last you for ages.
Thanks for reading!