Wanna cut to the chase? I went searching for the best bass fuzz pedal, and my top pick was the EarthQuaker Devices Hoof V2 Hybrid Fuzz Guitar Effects Pedal.
There's nothing quite like a bit of fuzz to really add more flavor to your bass sounds. The distortion and fuzz created by a bass fuzz pedal adds a truly distinctive sound to any track.
Fuzz started becoming really popular back in the 1960s/70s and it was originally generated through turning up the gain knob on a tube amplifier. You can usually find bass fuzz pedals used to create rock, indie and blues music.
For an idea of how fuzz sounds on a bass guitar, check out the video below! You can also hear some fuzz in the song "Satisfaction" by the iconic Rolling Stones.
There are many ways to create fuzz in your bass, but the best way is through a fuzz pedal.
Buying a bass fuzz pedal is no easy feat when you're just starting out, however. How are you supposed to know what will be the best choice for you if you have never bought one before?
Thankfully, we're here to help!
We've written this ranking to help you to find the best bass fuzz pedal for you. We've also written a handy buyer's guide to help you to narrow down your decision.
Top Pick: EarthQuaker Devices Hoof V2 Hybrid Fuzz Guitar Effects Pedal
1.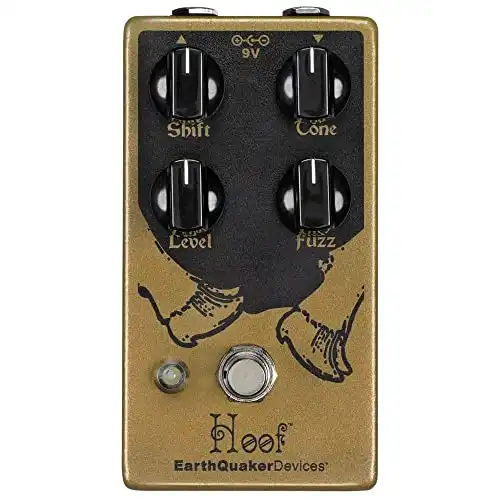 This germanium/silicon hybrid bass fuzz pedal is a reliable option for anyone looking to add a little bit more intrigue to their music.
The hybrid construction means that there is plenty of temperature stability and the tonality is pretty good too.
The EarthQuaker Devices Hoof V2 Hybrid Fuzz Guitar Effects Pedal has been made mainly for bass guitars, so the sound quality is a lot better than many other options that have been designed for any kind of guitar.
The pedal features LED lights that will let you know when the processor is engaged. It has a lot of different interface controls, including a level control which will alter the amount of dry signal.
There are also controls to change the intensity of the fuzz: tone which allows you to alter the tonality of the fuzz, and shift which can work along with the tone knob in order to change the frequency response as a whole.
As far as power is concerned, the unit is pretty versatile. It's possible to run this device on a 9V battery when you need something portable to jam with your band, or it can also be used with a 9v power supply.
You will need to buy the power supply separately though.
Furthermore, this device is pretty durable and it has a lot of interesting features for you to take advantage of.
With that being said, the biggest downfall of this pedal is that it is a little noisy.
What I Like
Durable
High quality construction
Lots of interesting features to take advantage of
What I Don't Like
Can make a considerable amount of noise
Top Pick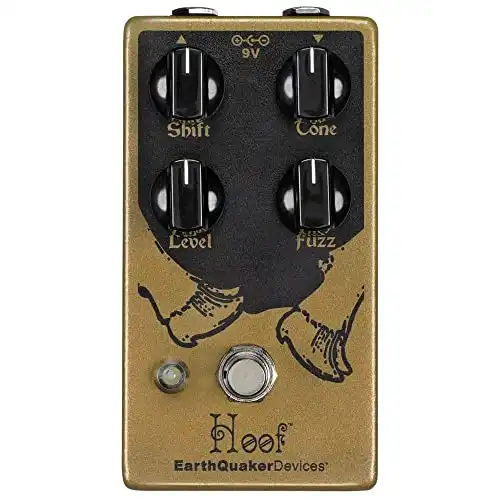 Best Budget: MXR M84 Bass Fuzz Deluxe
2.
Made by Jim Dunlop, the MXR M84 Bass Fuzz Deluxe is a decent choice if you're looking for a small, but mighty bass fuzz pedal!
This pedal features a metal chassis that can fit onto a pedal board and not take up oodles of space. If you often go out on tour with your bass guitar, then this is a good choice for you.
The fuzz effect is pretty awesome and can be heard easily. They also create a bit of a warm sound.
In addition to this, the device features a lot of different controls, such as wet and dry signal controls, the fuzz intensity and tonality and more.
This unit is able to run on a 9V battery but you can also run it on a 9v power supply if you need to. It's incredibly easy to operate and it works well.
The one issue with it, however, is that it is not possible to save any presets onto it. This is a feature that is generally present with most other digital distortion pedals. The sound is good, but this is something that you need to consider.
What I Like
Easy to use
Good tonality
Doesn't take up a lot of space on a pedal board
What I Don't Like
Not possible to save presets
Best Budget
Editor's Choice: Electro Harmonix Deluxe Big Muff Fuzz Pedal
3.
The Electro Harmonix Deluxe Big Muff Fuzz Pedal is a great choice for any musician that wants a versatile fuzz pedal.
Sometimes, more modern fuzz pedals can be a lot harder to use, with so many added features and controls that it can be tricky to navigate.
With the Electro Harmonix Deluxe Big Muff Fuzz pedal, you are getting a classic style fuzz pedal that's pretty simple to navigate.
This pedal provides a recognizable fuzz sound that will sound great in your tracks.
The device is very flexible, and will provide you with the ability to adjust the tonal quality easily.
The unit has some output options that are able to allow you to route the device flexibly. It's also quite affordable if you are on more of a budget.
Unfortunately, it should be noted that the low pass filter can only affect the dry signal, not the wet signal.
What I Like
Great output options for flexible routing
Affordable
Easy to use
What I Don't Like
The low pass filter can only impact the dry signal
Editor's Choice
Runner Up: MXR M287 Sub Octave Bass Fuzz Guitar Effects Pedal
4.
The MXR M287 Sub Octave Bass Fuzz Guitar Effects Pedal actually creates two different sounding fuzz effects in total.
You can create a deep growling sub octave signal or a standard fuzz effect.
It comes with three different output controls for fuzz, dry signal and sub octave. This means that there is a lot of versatility to play with, allowing for lots of creativity.
The fuzz pedal is able to run on a 9v battery but it is capable of running on 9v power supply too if needed. You can also tell when the processor is running as there is a bright light LED indicator.
As far as fuzz is concerned, it's pretty powerful and will really give a unique sound to your music. Of course, it should also be noted that the fuzz is a little too noisy sometimes if you have it on a higher gain setting.
The unit is very simple to use with basic level controls.
What I Like
Easy to use
Powerful fuzz sound
Versatile
What I Don't Like
The fuzz can be a little bit too noisy when at higher gain settings
Runner Up
Runner Up: Aguilar Fuzzistor Bass Fuzz Pedal
5.
The Aguilar Fuzzistor Bass Fuzz Pedal is a durable, long lasting pedal that has a range of different fuzz sounds to take advantage of.
It's hard not to notice this particular fuzz pedal due to its striking colorway – orange certainly does catch the eye!
It comes with four different dials for blend, level, tone and fuzz. It's possible to run it either on a power supply or with a 9V battery.
With this fuzz, there are a bunch of different sounds to enjoy, from some slightly softer sounds to ones that are just a little more angry!
The pedal is very easy to use, and the value for money is quite good too.
Of course, the main issue is probably the color scheme – not everyone is fond of luminous orange! It's otherwise a pretty decent choice that a bassist is sure to enjoy.
What I Like
Very durable and long lasting
Range of fuzz sounds to choose from, angry to more mellow
Easy to use, intuitive controls
What I Don't Like
If you're not a big fan of luminous orange, this may not be the best choice for you
Runner Up
Best Bass Fuzz Pedals Buying Guide
Bass fuzz pedals are essentially bass effects units. They are somewhat similar to bass distortion pedals or overdrive pedals. These are designed to create a fuzzy kind of sound.
In essence, you overdrive a bass signal, and this will alter the waveform of the initial signal which in turn changes the timbre that you can hear.
For this reason, it is vital that the equalization is done properly so that the signal can still sound like a bass sound.
As we've already mentioned, you will generally find bass fuzz pedals used in indie, rock and blues music. In these genres, guitar and bass are often distorted.
You will usually use a bass fuzz pedal during studio recordings and live performances.
How To Buy A Bass Fuzz Pedal
It can be a little tricky to buy a bass fuzz pedal, so it's important to make sure that you are fully armed with the information that you need before you try to.
Here are a couple of things to keep in mind when you are buying a bass fuzz pedal.
Types of Fuzz Pedals
Fuzz pedals can create a range of different fuzz sounds based on the kinds of transistors used.
Transistors, in case you didn't know, essentially work like switches. It basically uses an electrical current and then makes a larger electrical current in the other end, so it amplifies sound. You can find out more here.
The main two kinds of transistors out there are germanium and silicon, materials that are semiconducting – we'll spare you the chemistry!
Germanium transistors tend to have more of a vintage kind of sound to them. The sound is, as a whole, much warmer and mid ranged. Unfortunately the main issue with germanium fuzz pedals is that their tone can change as a result of the ambient temperature.
Silicon, on the other hand, soon replaced germanium as the material of choice, mainly because it saved a lot of money and the quality was pretty consistent between units.
Silicon Transistors
Silicon fuzz pedals tend to be used in slightly more modern music, and they also sound much brighter than their vintage sounding counterparts.
Durability
As you may imagine, you will quite literally be stomping on your bass fuzz pedal. There's nothing worse than stepping on your bass fuzz pedal to help to make some sweet music, and then the pedal just disintegrates. That's a pretty big waste of money.
You should be looking for a bass fuzz pedal that's well made. It should also have control knobs that are placed in a position that's easy to see and reach without them being in a place where they may feel the wrath of your foot.
Your pedal should also have some indicators to tell you when the pedals are on, usually in the form of an LED light.
Battery or AC?
Batteries are handy for a lot of things, but the Duracell Bunny only has so much energy. If you are planning on using the pedal to perform on stage, then you should make sure that it's also possible to power your pedal using an AC adapter.
Of course, it is going to cost you a little bit of extra money to invest in an AC adapter, but ultimately this is money that you will save in the long run because you won't need to be constantly replacing the batteries.
Are You Playing Lead or Rhythm?
Bass fuzz pedals can make a pretty big difference when you're playing the lead instrument. If that is your intention though, it's important that you choose the right fuzz pedal.
Some fuzz pedals simply are not made to be used for chords. There are others that are better suited to playing chords so you will need to look for those instead if you are not only playing single notes.
Tips for Choosing the Best Bass Fuzz Pedal
So those are some of the key things that you need to know about when buying your bass fuzz pedal, but sometimes it's handy to have a few extra pointers to help you to make your decision!
Conduct a Fuzz Pedal Audition
When you are looking for a bass fuzz pedal, you should try to give the pedal a trial before you buy it. Try and play a couple of chords and a number of leads and riffs to see how the pedal sounds.
This is important because of the last point we made: some bass fuzz pedals simply cannot handle certain chords. You may find though that there are some fuzz pedals that are able to create just a single note sound.
Playability Factors
Whenever you're buying anything that will be used in music production of any kind, you should always check out the playability. Just take a moment and see how it plays.
Consider whether you are going to want a little bit of accent and whether you are going to be using it for lead or rhythm.
What type of bass strings you use can also make a difference.
Gain
If you are intending to use a fuzz pedal for bass, then you should make sure that it is able to give you a decent amount of gain boost. If you don't then the signal of the guitar may just disappear.
If you have extra gain then you will have more sustain as a result. While this is a good thing, too much gain can create incredible amounts of unpleasant noises and feedback. Depending on what you're trying to achieve, this could also be a positive thing though!
At the bare minimum the gain control needs to be able to give you enough boost so that it can match the volume of the guitar once the effect is bypassed.
FAQs
How do I use a bass fuzz pedal?
Ultimately it depends on the way that you play and the arrangement that you are playing in! 
Bass pedals are primarily used in order to increase your tonal quality, or to create distortion or fuzz.
In order to set up your bass fuzz pedal, all you need to do is plug it into the pedal and then plug a cable from your amplification device into the output jack.
If you do have multiple fuzz pedals or actually, a number of pedals in general, then you are going to want to join them together with a shorter patch cable. 
What's the difference between Fuzz, Overdrive and Distortion?
These terms have created a lot of debate in the music world over the years. Generally, fuzz pedals operate by putting transistors into clipping, instead of using diodes in order to change the top and the bottom of the signal from the guitar waveform.
It's also known as a square wave clipping.
The short answer is that fuzz is such a distinctive sound that you will recognize it when you hear it. It's usually a slightly more aggressive kind of compressed distortion.
Essentially, distortion and overdrive are clipped harder and they are sounds that are achieved in a different way to fuzz. Usually distortion and overdrive pedals are able to cross over to an extent – so an overdrive pedal can usually distort sounds and vice versa.
Fuzz is ideal as it doesn't necessarily have to be used for a certain type of music. It's most commonly associated with Jimi Hendrix, however. It's a pretty edgy sound! 
Conclusion
If you are in the market for the best bass fuzz pedal, hopefully you now have some ideas about what will be the best option for you.
From us here at Strummingly to you – may the fuzz be with you!