Wanna cut to the chase? I went searching for the best guitar amp under $300, and my top pick was the Marshall Code 50-watt Digital Combo Amp.
I got my first guitar (and second) long before I got a guitar amp. Even when I got my first electric guitar, I played it unplugged for a few months before I got the tiniest little amp.
It's kind of boring to play electric without the amped up sound, though!
If you have an acoustic, you can play it wherever, whenever, regardless of if you have an amp or not.
But an electric really isn't anything special, sound-wise… Until you plug it in.
Don't be fooled into thinking a good amp has to be an expensive one!
A guitar amp under 300 dollars can pack just as hard a punch as $1000+, if you know what to look for.
I'll explain some basics of how to choose the best amp for you, and then review six guitar amps that would be solid choices, whether it's your first amp or your 10th!
How Much Does a Good Guitar Amp Cost?
The prices of guitar amps vary wildly. You can find options for under $100 or monster amplifiers for upwards of $1000.
Asking how much a good guitar amp costs is like asking how long it will take to get from where you are to the next closest city. There are many factors at play!
How far away is the city? When will you leave? What mode of transport are you using? Will you be sticking to the speed limit?
It's the same with a guitar amp. There is just no definitive answer until you've figured out:
What sounds you want the amp to produce.
If you'll be using it just to practice or to play on stage.
If you'll be playing alone or have a full band with you.
That said, the $300 mark is a good middle ground to aim for.
Generally, amps in this range offer a warm tone, a variety of sounds, adequate power, and just enough EQ (tone adjustment options) for a beginner or intermediate guitarist to work with.
If you're an advanced guitarist who plays regular gigs, you may prefer something a little higher up on the scale.
If you're a pro but just looking for an at-home practice amp, then these will do the job admirably.
What Do I Get For $300?
For $300, you can get an amp with decent power that should be quite suitable for practicing alone at home, jamming with your buds or bandmates, and small gigs.
Depending on the type of amp you get, you can find models with built-in effects, or more classic, simple ones.
Amps in this range typically offer crisp, clear sound and very solid performance.
What Should I Look For In a Guitar Amp?
If you're shopping for a high-quality guitar amp under 300 dollars, you should be considering the following factors:
Type of Amp
There's more to a guitar amp than you may realize! Amps come in four different varieties, each with their own sounds and features.
When shopping for an amp, most of them will state which type they are, so there's not much guesswork involved!
Solid-State Amp
A solid-state amplifier is powered by a semiconductor, which moves electrical signals around to produce sound.
They produce a clean, smooth sound. If you push the volume up, they can begin to sound tinny, but that's only if you want to get really loud! Try using it on a guitar with thicker strings if you want to get even louder 🙂
They're strong and durable, and also one of the lighter amp options, which makes them great if you want something portable.
Some guitarists reckon the tone of a solid-state amp is flat and brittle compared to a tube amp, but in all honesty, I've used solid-state amps all my life and never found any issues with them.
Affordable.
Solid and strong.
Lightweight.
Easy and safe to transport.
No natural distortion.
Tube/Valve Amp
The difference between a solid-state and a tube amp is similar to the difference between a digital and an analog watch.
While solid-state amps use electrical circuits to create sound, tube amps use vacuum tubes or valves. Tube tech is quite a lot older than the technology used in solid-state amps.
You don't need to know the tech behind these things, though! If you are interested in the details, here's a great article that explains the tech in depth.
All you need to know is that tube amps have a warm, honey-like, vintage sound and some natural distortion when you play them pretty loud.
They're more fragile than solid-states, and you'll need to be careful moving them around as those tubes can break.
Tend to be more expensive.
Tubes can be fragile.
Be careful transporting.
Warm, old-school sound.
Natural distortion.
Modeling Amp
Technically, a modeling amp is a sound emulator – that is, something that sounds like something else.
In this case, your simple little guitar amp is designed to sound like a whole lot of different amps and guitars.
While these do have an amplification function, they also have a digital processing system that recreates specific sounds – from particular guitars to certain amp models.
If you want the warmth of a tube amp on one song, and the smooth, clean tone of a solid-state on the next, a modeling amp can provide both of those with just a few twirls of dials!
Not too expensive.
Fairly lightweight.
Portable and easy to transport.
Quite versatile in sound.
Hybrid Amp
Hybrids make use of both a tube and a semiconductor in their inner workings. This makes them quite versatile in terms of sound.
Versatile sound range.
Can be a little expensive.
Combo Amp vs Amp Head & Speaker
Be careful not to buy an amplifier head. This little machine is designed to power speakers and doesn't have a speaker of its own!
It's best to go for a combo amp, which is one that has the amp and speaker in one nice compact package.
All the amps I've reviewed here are combo amps!
Digital Effects
Many amps come with built-in digital effects so you can tweak your sound to suit your ear.
Some contain only basic EQ (treble, mid, bass) while others have a variety of fun effects that add an interesting layer to your music.
Some common effects you'll find include:
Reverb
Chorus
Flanger
Delay
Listen to the difference between various EQ setting in this video:
Power
If you're planning on just practicing at home, you can go low on the power. Less than 10 watts will suffice if you're not competing with other instruments!
For those who will be gigging, between 30 and 60 watts is considered to be a mid-sized amp.
Above 60 watts is ideal for gigs in large venues, but a mid-sized amp should be all good for most occasions.
Other Features
Speaker Jack/Line Out
This is an awesome thing to have on a smaller amp if you're planning on playing on stage in larger venues and will be hooking up to a bigger sound system.
Headphone Jack
If you want to be able to play during those moments of insomnia without waking the neighborhood, this is a must!
Connectivity
Many new amps come with either a USB connection port, Bluetooth, or Wi-Fi (less common). This is superb if you're planning on recording using the amp.
[REVIEWS] Best Guitar Amp Under $300
Now that you have a better idea of what you're looking for in an amp, check out these six options.
They each have something that makes them stand out from the others. If your budget is around 300 bucks, you'll find something that suits your style on this list!
Top Pick: Marshall Code 50-watt Digital Combo Amp
1.
Marshall is a big name in the guitar world, so it's no surprise that they have a super guitar amp and that it's my number one choice.
50 watts is pretty powerful, and you should be able to play medium to large-ish gigs with a full band quite comfortably.
You also have free reign with customizing your sound, with 24 built-in effects and a variety of adjustable parameters.
If you'll be using it for practice purposes, it features a USB port to connect it up to a computer, and an input for your music device so you can play along to your favorite songs.
It gets a thumbs-up for its memory storage function, which means you can turn it off and on again without losing your favorite settings!
What I Like
Powerful at 50 watts
Various adjustable sound settings
24 built-in effects
Features a USB port
Inputs for headphones and music device
Memory storing function
What I Don't Like
No line out (speaker out)
App isn't the most user-friendly
Top Pick
Budget Pick: NUX Mighty Lite BT Mini Guitar Amplifier
2.
The NUX comes in as my best budget guitar amp. It's a desktop guitar amp, which means it's not going to be completely suitable for gigging.
With only 3 watts of power, it's not going to hold up to a stage environment, but I recommend it as the best practice amp on a budget.
It's super easy to move around, and perfect for experimenting or practicing specific stuff. It would also be super for a kid's first amp, whether they have an acoustic or an electric.
It comes with built-in effects and drum patterns, so although it's small, you'll be able to practice as though you have a drummer in the room.
One downside is that you won't be able to save your settings to use the next day. But for the price, you'll be getting a cracker of an amp.
What I Like
Easily portable
Affordable
Built-in drum patterns
Built-in effects
What I Don't Like
Not capable of gigging/on-stage
Settings can't be saved, so when amp turns off you'll lose what you've set
Budget Pick
Best Effects: BOSS Katana MkII-50-watt Guitar Amp
3.
If you like the idea of having digital effects at your fingertips, then the Boss Katana would be a good choice for you.
With 60 built-in effects and the ability to use 5 effects at the same time, your sound options are almost endless!
Another thing this amp gets right is their variable power control. With a simple flick of a switch, you can use the amp at full capacity (50W), half capacity (25W), or "I don't want to be evicted" capacity, 0.5W.
There's also a line out jack, which is great if you do happen to play on stage for bigger crowds and need to hook up to a more powerful system.
The sheer array of features and functions on this amp may become overwhelming for newbies, so it may be best for intermediate to advanced guitarists.
What I Like
60 different effects
5 different amp sounds
Powerful 50 watts
Has a line out jack
What I Don't Like
May be too complicated for new guitarists
Some users report a buzz on the distortion channel
Best Effects
Best Tube Amp: Monoprice 611815 15Watt Tube Amplifier
4.
It can be hard to find the best tube amp under $500. They tend to be more expensive than others, but if you're a tube amp fan, you're in luck with this one!
It may only be 15 watts, but that's perfect for small performances and at-home jamming, offering the classic warm, syrupy tube amp sound (from 5 tubes).
Although there are fewer effects than other amps have (only reverb), the vintage sound is the real draw with this amp.
You'll still be able to adjust your EQ as you'd like it, and the leather handle makes it easy to move around. You'll need to be careful, as the tubes are fragile.
What I Like
15-watt power
5 tubes
3-band equalizer
Has a leather handle for easier transport
What I Don't Like
You can switch the reverb on and off with a footswitch, but there's no footswitch included
No headphone jack
Best Tube Amp
Best Modeling Amp: Fender Mustang GT 40 Modeling Guitar Amplifier
5.
Fender is another huge name in the music industry, and they win top spot for the best modeling amp.
With 21 amp sounds included, you can get a wide variety of traditional tones all in one machine.
It also features "artist presets". These are custom settings that well-known guitarists have created specifically to be added to this amp, so you can get their signature sound.
Download the app to try out presets by guitarists like The Edge (U2), Dave Stewart, or Joe Bonamassa.
Basically, with the various on-board sounds and settings, you have a world of tones in your hands. No matter what sound you're after, you should be able to get very close to it with this amp!
What I Like
Includes 21 amp sounds
Various "artist presets"
Wi-Fi and Bluetooth enabled
USB out to connect to computer
What I Don't Like
The tone will change depending on the guitar you use (different guitars have different tones)
The multitude of effects and presets can be overwhelming for newer guitarists
Best Modeling Amp
Best Portable: Roland CUBE-ST Street 5-Watt Amplifier
6.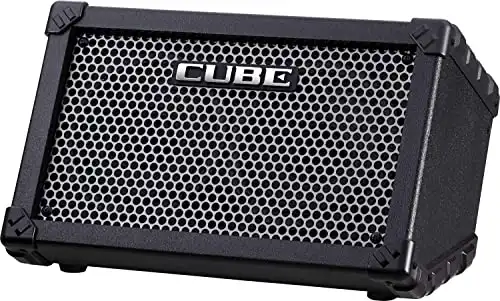 I'll admit it – I'm a Roland fan. I currently use a Roland Cube amp, and I've been so happy with it that I had to stick a Roland in to this list 🙂
It's tough to find a Roland Cube below $300, but this little 5-watt amp is a solid choice for guitarists who sing too, and tend to play without a full band.
Buskers, this would work well for you! It has inputs for both a guitar and a mic, as well as a built-in tuner for convenience.
It's also quite lightweight, but it's sturdily built so you can lug it around with you quite easily. If you're outdoors a lot, be careful – it's not waterproof, so getting caught in the rain could be a problem.
What I Like
Features guitar and microphone inputs
6 built-in digital effects
Built-in tuner
Lightweight and easy to move around
What I Don't Like
Not waterproof – be careful if you're playing outdoors
Some distortion if you play it above 50% volume
Best Portable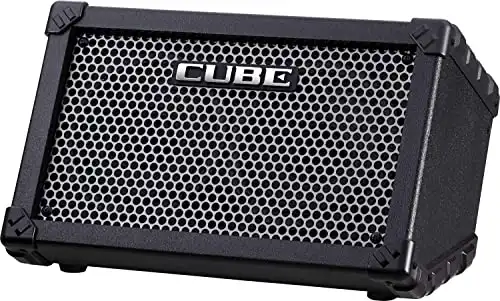 Conclusion
You should now have a better idea of the kind of quality you can find when looking for the best guitar amp under 300 dollars. A higher price doesn't always mean a better amp for your needs!
Whether you're looking for something for your kid to practice with, something your favorite blues or rock artist might use, an amp to experiment with to find your sound, or something to use on stage in small venues, you can find your perfect match for a nice price.
Overall, my top pick is the Marshall 50-watt Digital Combo Amp, because of its quality, power, and versatility. But any of these are really decent options for those who want a mid-sized amp with a bit of pizzazz.
Remember, a superior quality amp is no substitute for great guitaring! A more affordable but still solid quality amp will suffice for most situations.
Happy amp hunting, and thanks for reading!