Wanna cut to the chase? I went searching for the best mini guitar amp, and my top pick was the VOX MINI3 G2 Battery Powered Modeling Amp, 3W.
When I finished school, I did a lot of traveling. I worked in three different countries in two years, and in various different places within those countries.
The one thing that I made sure to have with me no matter where I went was my guitar!
But because of the constant moving around, it was impossible to carry a full-sized amp with me. Thankfully, I had a great mini guitar amp, which made life much easier.
Thanks to my traveling instrument setup, I've been able to play around campfires in the wilderness of South Africa, at state fairs in the USA, and even at a Chinese wedding!
If you travel a lot, you don't have to miss out. You absolutely can take your musical setup with you.
(Although, depending on the size and shape of your guitar, it could be difficult to transport. A mini amp and 3/4 guitar (or smaller) are a good combo for travel!)
If you're serious about traveling with your guitar (or you just need a really small amp for another reason), check out my mini amp reviews and buying guide below.
What Is A Mini Guitar Amp?
A mini guitar amp is an amplifier that's small, easily portable, and runs off of batteries. That makes them super useful for playing in a variety of settings.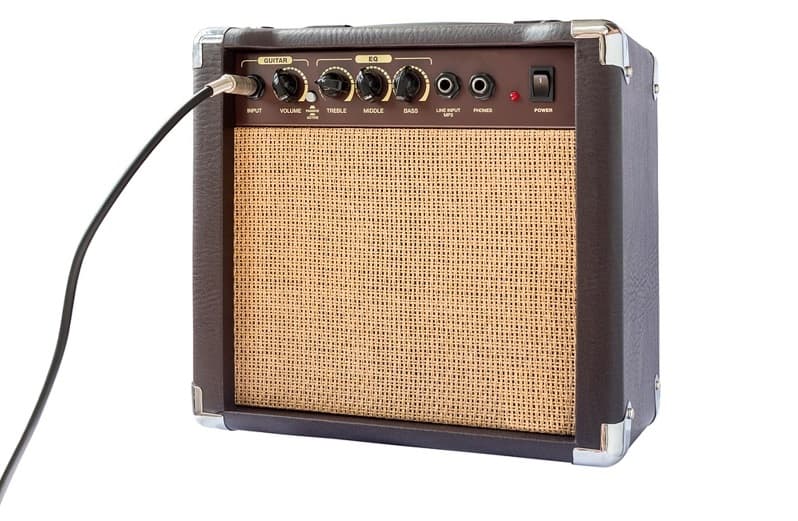 Naturally, they're not quite as powerful as full-sized amps. But many of them provide perfectly decent sound, as well as offering some great features and effects.
Are Mini Amps Any Good?
It really depends on what you want to use your mini guitar amp for. If you want to play loud gigs on stage with a full band, you're better off spending more on a bigger amp.
But if you don't have much room (or budget) for a full-sized practice amp, don't have readily-available power, or you want to take your amp with you when you travel or go on vacation, a mini amp would work surprisingly well.
Mini amps are perfect for:
Buskers and street musicians.
Frequent travelers.
Small, intimate gigs.
Quiet band practices.
Practicing alone.
Why Get A Mini Guitar Amp?
If you aren't sold on the idea of getting a mini guitar amp, here are some of the biggest reasons having one of these little amps in your arsenal could be a good idea.
Saves Space
A powerful amp generally takes up a chunk of space, whether it's in your bedroom, home music room, or on the stage.
There's nothing wrong with that if you have the space. But if you'd prefer more space and fewer things to stub your toe on, a mini amp is a good practice choice!
Easy To Travel With
What is the best portable guitar amp? A mini amp, of course! Thanks to its nice size and lightness, a mini amp is the perfect amplifier to travel with.
Traveling with a full-sized one isn't the worst thing in the world. But it's not something you can fit in at the last minute – your packing almost needs to revolve around your amp.
But a mini amp is super easy to fit into the backseat or trunk of a vehicle, or even take on a plane. It's also legally required that airlines allow guitars as a carry-on, which should extend to a mini amp, so that adds to the convenience factor.
Even just walking down to the local coffee shop or street corner for a bit of a jam is easier with one of these little amps.
Affordable
Naturally, mini amps tend to be quite a bit less expensive than big daddy amps. That makes mini guitar amps perfect for musicians who want an extra amp to practice with.
They're particularly useful if you have a practice room or building that your main guitar amp stays at, but you want something extra to noodle on at home.
No need to spend a fortune on two big amps! You can have amplification everywhere you go, without needing to buy a second full-on piece of equipment.
How to Choose The Best Mini Amp for You
It's important to note that there's a difference between a true miniature amp and a speaker system amp attachment. In this article, I'm talking about a standalone amp that can power your guitar through its own speaker.
Here's what you should be looking at when shopping for the best mini guitar amp!
Built-In Effects
These kinds of micro amps are often much simpler than bigger ones. Just about all of them will come with some basic volume and tone adjustments, but most don't have a large variety of effects.
Some do, but they'll be a little more pricey than the basic ones. If you need particular effects for practice, it may be worth investing in a slightly more expensive amp, or setting yourself up with some effects pedals.
Generally, these types of amps will come with two channels – clean and overdrive. Clean will give you that lovely, smooth sound, while overdrive adds some distortion and is good for hard rock and metal.
Power/Battery
Most mini amps are battery powered. Some also have a power cable in case you are near a power outlet.
It depends on where and when you'll be using your amp. If you practice at home, you might want something that can plug in to save yourself battery power.
If you spend more time playing where there's no power source–like busking, around the campfire, or on the road (want to get some practice in while someone else is driving?)–then a battery-powered amp would suit you.
Power Output
Mini amps range from about 3 watts to 10 watts at the most. Don't be fooled, though – that's a fairly powerful sound for a tiny piece of equipment!
If you just want to sit in your bedroom and work on songs or play around, 3 watts is more than enough.
Those guitarists who will be playing small gigs, busking, or using the amp in more noisy settings may prefer slightly more power.
[*REVIEWS*] What Is the Best Mini Guitar Amp?
Now that you know what to look for in a mini guitar amp for you, let's jump into the actual reviews!
Top Pick: VOX MINI3 G2 Battery Powered Modeling Amp , 3W
1.
I've chosen the Vox Mini3 G2 as the best mini guitar amp. Vox makes some solid modeling amps. If you want an amp that can sound like a bunch of different amps, the Vox could be the one for you!
For a mini amp, this one packs a nice, punchy sound into a little package. It's the largest amp on this list in terms of physical size, but it's still much smaller than your average amp.
For 3 watts, it's got a decently powerful sound. But it really shines in its versatility. Firstly, it gets a thumbs-up for being powered by either batteries or an electrical outlet.
Sound-wise, this little amp is surprising. It features a staggering 11 built-in amp models, and 8 onboard effects including chorus, delay, and reverb.
The videos below show what reverb and chorus effects actually do.
Between those two effects, you can customize your sound quite a lot!
But wait, there's more! You can plug in an mp3 player to play a backing track, and it has a mic jack so you can sing and play at the same time. A built-in tuner is also a nice touch.
This would be a great choice for serious guitarists who busk or play small gigs.
What I Like
Uses an electric outlet or batteries
11 built-in amp models
Variety of high-quality onboard effects
Auxiliary input jack to connect an audio source
Microphone jack
Three color/design choices
Built-in tuner
What I Don't Like
Batteries may not last as long due to many effects
Some buyers report a constant hiss or buzz even when not playing
Top Pick
Smallest Amp: Marshall MS2 Battery-Powered Micro Guitar Amplifier
2.
If you're looking for something super portable, easy to carry on your person, and pretty darn cool, you may fall in love with the Marshall MS2 micro amp.
Marshall are a renowned name when it comes to amps, and their littlest offering is no less quality. It wins my top spot for best small guitar amp, as it's really tiny enough to fit in any backpack.
If you aren't planning on moving around much, you can plug this into a power source and rock away. But if you're one who moves about while playing, simply load it with a couple of batteries, clip the amp onto your belt, and go for it!
Although the sound produced by its single watt isn't extremely powerful, it still features a headphone jack if you want to play quietly without being heard.
You can also switch between clean and overdrive channels to get the sound you want.
One downside is that you wouldn't be able to play an acoustic guitar through this little amp – the sound of the strings would probably drown out the amp!
What I Like
Battery operated or plug-in to a power outlet
Clips easily onto a belt
Features a headphone jack
Three color options available
Clean and overdrive channels
What I Don't Like
At 1 watt, it may not be powerful enough for anything other than bedroom practice
Not powerful enough to play an acoustic guitar through
Smallest Amp
Budget Pick: Blackstar Electric Guitar Mini Amplifier
3.
For its price, this little amplifier may surprise you with its sound! It's not big – just 3 watts – but that should be more than enough for jamming, practicing, or gigs with a small crowd.
Whatever kind of music you like, you could play it fairly well through this little amp, by switching between clean or overdrive.
You can buy this mini amp in various combo packages. If you buy it alone, you'll need to purchase a power cable separately if you'd like to use electricity instead of batteries.
You can also buy a Bluetooth version.
If you like the amp, you can buy an extension cabinet, which is basically an extra speaker. Or, you can go for a bundle of the amp, extension cabinet, and power supply from the start.
Something unusual is the ISF (Infinite Shape Feature), which changes your sound even more, on top of the effects you've put on your tone already. This allows for an almost infinite tonal range!
If you choose to use your own power adapter instead of buying theirs, be aware that a normal 9V adapter could blow the amp. Blackstar's adapter is a 6.5V.
What I Like
Budget-friendly
Bluetooth option
MP3 line-in for backtracks
Clean and overdrive channels
Battery or DC powered
ISF (Infinite Shape Feature)
What I Don't Like
Doesn't come with a power adapter
Be careful – using a power adapter that's not specifically for this amp may blow the speaker
Budget Pick
Best Effects: Roland MICRO CUBE GX 3-Watt Guitar Amplifier
4.
As you may know, I'm a fan of Roland amps. My dad bought me my first one, and I think I'll forever be a Roland user!
This is the smallest Cube at 3 watts. It's super easy to transport around with you, thanks to the handy carry handle.
In terms of effects, it has 8 built-in amp tones so you can emulate your favorite amplifier. Another 8 onboard effects, including a separate delay/reverb processor, give this amp a thumbs-up for extra effects.
Another thing I really like about this little Roland is its memory function. If you find a tone you really like, you can save it so you don't have to try and recreate it next time you plug in.
Apple users will benefit from the iCube Link, which provides an audio interface with Apple devices so you can record using music apps on your phone.
Some guitarists may not like the slightly "artificial" sound of the Roland, due to the many effects. If you think that may be you, check out some videos of its tone beforehand.
What I Like
Handy carrying handle
8 built-in amp tones
5 onboard effects
Memory function
Audio interface for iPhone or iPad apps
What I Don't Like
Batteries not included
The sound quality may be a little artificial due to the many effects
Best Effects
Best Acoustic: Yamaha THR5A Mini Acoustic Guitar Amplifier
5.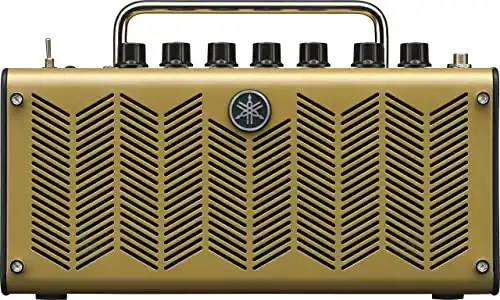 It may look a little different to the others on this list, but the Yamaha THR5A is a self-contained mini amp that is versatile and warm. It's a worthy winner for my best mini acoustic guitar amp.
Of course, you can play an acoustic guitar without an amp if you're just practicing, but it's quite worth investing in if you're a serious acoustic guitarist.
It's slightly more expensive than the others here, but considering you get Cubase recording software when you buy it, the price tag is justifiable.
If you're into home recording, this little amp is a dream. It has a USB connection to hook up to your computer, giving you two recording channels and two playback channels.
Play around with five different amp settings, including Blend control, which allows you to find the perfect mix between two different sounds.
This is the most powerful amp I've chosen, at 10 watts. Be aware that it could distort if you strum hard!
What I Like
Comes with Cubase production software
Five different amp settings
Blend control
Built-in tuner
10 watts
Aux input & headphone jack
What I Don't Like
It could be louder – sometimes the natural resonance of an acoustic guitar can drown it out
The sound may distort with heavy strumming
Best Acoustic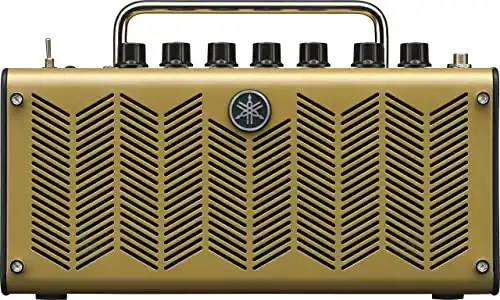 Conclusion
There's no need to go out and buy a full-sized guitar amp if you aren't going to need one! The best mini guitar amp will do the job if you need a small practice amp, an amp for intimate gigs, or something you can carry around easily with you when you travel.
I recommend the VOX MINI3 G2 Battery Powered Modeling Amp for just about any guitarist! It's a solid choice with plenty of built-in effects so you can get your sound right where you want it.
Whatever kind of music you play, or wherever you play, investing in a mini guitar amp is a fun and practical way to get your practice in without disturbing the neighborhood or having to set up an enormous piece of equipment.
Thanks for reading!