Wanna cut to the chase? I went searching for the best guitar picks for speed, and my top choice was the Dunlop Tortex Standard.
When I started learning guitar, it was all fingerstyle. I didn't start learning to play with a pick until about a year or so in, and it was difficult!
For a while, I spent more time accidentally flicking the pick around the room, because I wasn't holding it tightly enough.
But once I got the hang of it, my guitar playing improved dramatically. I could play faster and more accurately, and I could always go back to fingerstyle if I wanted that sound.
If you're ready to take your guitaring to a new level, check out my reviews of the best guitar picks for speed, including options for various music styles and skill levels.
They may seem like a tiny, inconsequential piece of equipment, but you'd be surprised how much choosing the right pick matters!
Why Use a Guitar Pick?
If you're like me and you learned to play just with your fingers, you may wonder why a pick would be helpful. You may even wonder if it will be restrictive to your fingerpicking.
The good news is that learning to play with a pick can open up a whole new guitaring world for you!
Using a pick not only increases speed when strumming (whether you're playing on an acoustic or an electric), but it also allows for far more accuracy if you're playing a solo.
And, if you find you prefer to play without one, you can always go back to bare fingers.
What Guitar Picks Do the Pros Use?
This is a tough question to answer, because it depends largely on what type of music the pros play! I'll get more into different genres in the reviews.
Of course, everyone has their personal preferences, too. Generally, there are some big names that pros use because of their durability and ease of use. These include Dunlop (or Jim Dunlop), Ernie Ball, and Fender.
The nice thing about picks is that you really don't need to buy a brand name. There are several other guitar pick alternatives. You could use a pick punched out of a credit card if you really wanted to! I've seen some guitarists use a coin as well, like Brian May (from Queen)
As long as it does the job and is comfortable, there's no need to go for what the pros use.
What to Look for When Buying a Guitar Pick
A pick is not just a pick. You need to find the right one for you and the music you play!
When looking at different types of guitar picks, make sure to consider the pick shape, size, and, perhaps most importantly, thickness.
Pick Shape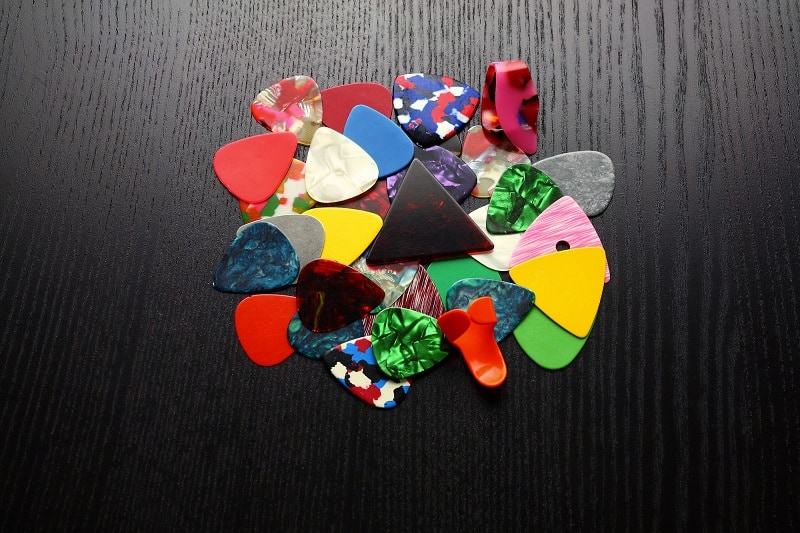 Guitar picks come in a wide variety of shapes. You may have seen the classic triangular/rounded edge shape, as it's the most common.
You'll also find more triangular shapes, more rounded shapes, "shark fin" shaped picks, and strange-looking finger picks that have a loop that fits over your thumb.
The one you choose depends on you. I've always found the classic shape to be perfect for what I need.
Some guitarists enjoy the shape of a shark fin pick, as it offers a bit more versatility thanks to its points and bumps.
Generally, the traditional shape is the one most used, for both acoustic and electric guitars.
Pick Size
Pick sizes don't change all that much. No matter which brand you go for, you'll find that your picks are about the same size.
Most brands do offer a smaller choice, which is usually a slightly squished-looking version of the normal shape.
The only difference here is that there's less space between your fingers and the end of the pick that touches the strings.
Some guitarists like the slightly shorter pick and find it easier to move from string to string. Personally, I've always found it to be slightly too short, and I sometimes miss the string while playing!
This could be because I learned with a traditionally shaped and sized pick, though. Once again, what you choose really depends on what's comfortable for you!
Pick Thickness
Thickness (also known as gauge) is perhaps the most important part of choosing the right pick. Naturally, a thicker pick is going to be less flexible, while a thinner one is more flexible.
How Thick Should My Guitar Pick Be?
This can make quite a difference! The best guitar pick for strumming will be a more flexible one, while soloing works better with a rigid pick.
If you're planning on doing both, a medium-thickness pick could be the best bet for you.
Pick Material
Guitar picks can be made from many materials! Nylon is common, as is celluloid. You're likely to find picks made from wood, bone, and even metal.
The material can have a subtle effect on the tone of your guitar, whether you play through an amp or unplugged. Think about it – a metal pick is going to sound different against the strings than a wooden one will.
Beginners may not need to know the subtleties of tone, but if that's a consideration for you, this article gives a good explanation of which picks give which tones.
This video also does a nice job of showing what different picks look and sound like!
[REVIEWS] Best Guitar Picks for Speed
Best Overall: Dunlop Tortex Standard
1.
The Tortex has a reputation for being among the best! Many pro guitarists use a Tortex, and they come in a range of 6 different thicknesses to suit everyone.
They're made from Delrin, which is a plastic that mimics the feel and warm sound of tortoiseshell (which used to be popular but is now banned).
Their handy color-coding system makes it easy to pick the one you need. Following the rainbow, they start with red at 0.5mm (their thinnest pick), and finish at purple, 1.14mm, with 4 other options in between.
There's a Tortex for every kind of guitarist. If you prefer playing acoustic, the best guitar pick for strumming would be the red or orange Tortex.
For those guitarists who solo a lot, the purple pick is hard enough to produce crisp notes every time. The matte surface helps you keep a good grip on them while moving fast.
Depending on how many you need, you can get these in a pack of 12, 36, or 72. Be aware that you'll get all the same gauge, though – there's no variety pack here!
What I Like
6 different thicknesses
Available in a 12-pack, 36-pack, or 72-pack
Made of Delrin (which mimics the sound and feel of tortoiseshell)
Bright tone against the strings
Matte surface to enhance grip
What I Don't Like
There's no option to buy a variety pack – be aware that you'll get 12, 36, or 72 of the same gauge pick!
Best Overall
Best for Shredding: Ernie Ball Prodigy Guitar Picks
2.
Hardcore guitarists, this would make one of the best guitar picks for metal, alternative, or hard rock.
They're the traditional shape, but come down to a sharper point. This is great for speedy shredding, sweep picking, and any fast finger work, as it allows you to hit the string more precisely and move off of it quickly.
Another helpful feature is the bevelled edge, which allows the pick to slip from string to string easily and quickly without catching.
Like the Tortex, they're crafted from Delrin and have a non-slip grip for better control.
You'll also find them in a range of shapes to suit everyone – standard, teardrop, shield (large triangle), sharp, mini, and large shield, as well as a variety pack.
What I Like
Sharp pointed for more precision
Available in 2 gauges and colors
Non-slip grip
Available in a variety of shapes
Bevelled edge increases speed
What I Don't Like
No thinner gauges – not ideal for strummers
Best for Shredding
Best for Beginners: ChromaCast CC-SAMPLE Sampler Guitar Picks
3.'
For beginners, choosing picks can be overwhelming.
This pack of 12 picks from ChromaCast takes away all frustration and provides you with 6 different gauges, so you can experiment and find out what works best.
ChromaCast also uses a color-coded gauge system.
Red is their thinnest and most flexible, and could be considered the best acoustic guitar picks for beginners to get used to the motion of strumming.
Purple is their thickest, and would be a good choice for beginners who aspire to be electric guitarists, and are learning scales.
You'll notice two different patterns on the picks. The plain one is made from Delrin, and the patterned ones from celluloid. This is useful for beginners to learn to hear the difference in tone when they play with different materials!
Be aware that these picks, particularly the celluloid ones, can be quite slippery in the hand. If you play vigorously, expect some flying picks!
What I Like
Color-coded gauge system
Variety pack, suitable for all new guitarists
Made from celluloid and Delrin
Two different materials, two different tones
Comes in a 12-pack, 48-pack, or 96-pack
What I Don't Like
The celluloid picks may be less easy to grip, especially if your hands get sweaty
These picks can wear down quickly if you play often
Best for Beginners
Best for Grip: Dunlop 449P Max-Grip
4.
If you need something with a bit more traction so it doesn't slip out of your hand while you're playing, these could work for you!
Choose from 6 different thicknesses to suit your playing style. Whichever gauge you go for, you should have no problem with grip thanks to Dunlop's grip tech.
The surface of the pick has small raised sections that offer much better traction than the usual smooth pick.
Some may find it uncomfortable at first, but they do tend to help if you're prone to dropping your pick often.
I've used one of these picks myself, and I found it helpful for playing faster while keeping a good grip on my pick.
If you prefer a shorter pick for playing hardcore stuff fast, they offer one of those too.
What I Like
Variety of gauges available
Max-grip design to provide stability
Made from nylon
Also available in shorter shape for speedier playing
What I Don't Like
Guitarists who like to move the pick around a lot in their hand could find the grip uncomfortable
These may feel thinner than others of the same gauge
Best for Grip
Best Value: Alice Guitar Picks 100-Pack
5.
You can never have too many guitar picks! They can get lost easily if you carry them around with you, and may be left in your pocket when your jeans go into the laundry.
This pack contains 100 picks of varying gauges and colors. One of the things that makes it a good value for money, though, is that you'll get a handy plastic case to store your picks in.
They're made of ABS, which is fairly strong, and also features a matte finish to help with grip. One potential problem is that the logo is printed onto it and may make it slippery in the fingers!
Intermediates who are looking for specific types of picks, and pros who want extremely high-quality picks, may not be happy with these picks.
But beginners, intermediates, and pros who aren't too worried about the subtleties of tone would get good use out of these.
The range of gauges mean you can get good speed whichever style you're playing.
What I Like
100 picks in the set
Come in various gauges and colors
Comes with a handy pick storage case
Made of durable ABS material
Matte surface for enhanced grip
What I Don't Like
These picks aren't quite as durable as some others
The printed logo on the surface may ruin the matte grip and make these picks a bit slippery
Best Value
Conclusion
Speed isn't everything when it comes to playing great guitar. But fluency is, and being able to play smoothly and at the right speed for the song is essential.
There is no single pick that's best for playing fluently. Depending on what you're playing, the best guitar picks for speed could change.
The best picks for acoustic guitar are likely to be soft and flexible if you plan on doing a lot of strumming.
If you have an electric guitar and you're going to be playing lots of barre chords and solos, a harder pick would be easiest.
Overall, my top choice is the Dunlop Tortex Standard, because it's durable, has a nice tone, and has a wide range of thicknesses appropriate for just about any purpose.
But in the end, it's up to you! Thankfully, picks are relatively affordable so you can really experiment with different types, shapes, and thicknesses and find what works for you.
Thanks for reading!