I'm lucky enough to have grown up in a family of musicians. We have one of almost everything!
My grandfather is a drummer, my uncle played the saxophone, my dad is a bassist, and my mom sings. My brother is a keyboardist, vocalist and general jack-of-all trades (master of a few) kind of musician.
Although we all have our brand preferences, I believe we have all ended up playing a Yamaha instrument at some point!
We've had Yamaha drums, basses, amps, and guitars come and go in our household. But today I'll be doing a Yamaha F325 review.
It's widely regarded as an affordable acoustic guitar choice for beginners. But what makes it so?
I'll go into some detail about its features and pros and cons, so you can see if it would make a good guitar choice for you!
The Yamaha Corporation
Chances are you've bought and used at least one Yamaha product in your lifetime. Their product range includes musical instruments, audio/visual equipment, home appliances, sporting goods, motorcycles, and semiconductors.
Here's a quick musical history of the company:
Yamaha had their roots in music! They began in 1887 as a piano and reed organ manufacturing company, by the name of Nippon Gakki Co. Ltd.
Their logo is musical too – three tuning forks.
The Yamaha Music School was founded in 1954.
In 1966, the Yamaha Music Foundation was created.
In 1983, Yamaha created the first successful digital synthesizer, the Yamaha DX7.
Yamaha owned majority shares in music giant Korg for 6 years.
Currently, Yamaha is the world's largest musical instrument manufacturer.
Are Yamaha Guitars Good Quality?
You may wonder if the wide variety of Yamaha products makes their quality of musical instruments any less.
Well, when you consider their history, Yamaha has been in the music game for a while! They're known for their high-quality manufacturing and commitment to quality control.
If you still aren't too sure of their standard, here are some well-known guitarists of all genres who use/used Yamaha guitars:
Those are some good guitarists who've spent quality time with Yamaha guitars! If that doesn't put your mind at ease about Yamaha's quality, then nothing will!
Presenting… The Yamaha F325 Review
Yamaha makes acoustic guitars in varying price ranges and quality levels, and this is widely seen as one of their beginner guitars. You may also see it called the F325D.
It's a solid, dreadnought shape acoustic guitar that can't be plugged into an amplifier. The tonewoods used in the construction of the body are spruce and meranti, which have both a warm look and tone.
It's a classic looking guitar, with a pickguard under the strings to protect the guitar's finish from vigorous playing.
Depending on the individual guitar you get, the "action" can be a little high. The action means the height of the strings above the fretboard, and if it's high that means it's harder to push down the stings.
Fortunately, the F325 comes with an adjustable truss rod in the neck. This is a piece of metal that runs through a guitar's neck to keep it straight and stable. It also makes it possible to adjust the guitar's action (make it higher or lower).
Even if you aren't interested in adjusting the neck yourself, it's a great thing to have in case you ever want your guitar to be set up by a professional. Adjustable truss rods aren't always found on more affordable guitars like this one!
The F325D would be a good option for beginners who won't need amplification. It would also make a solid practice guitar for intermediates or even pros, provided practice would be unplugged.
Guitarists looking for an acoustic guitar to gig with will most likely need to find something else (the Yamaha FX325A is the acoustic-electric version of the F325D, but it's still a beginner-level guitar).
It's also probably better suited to adults. Kids may find that the body and neck are too large for them to play comfortably.
What I Like
Dreadnought shape for better resonance
More affordable option than many
Added pickguard to protect the finish
Spruce and meranti tonewoods
Warm tone when strumming or picking
Adjustable truss rod in the neck
Available in a beginner package with accessories
What I Don't Like
The dreadnought body may be too big for smaller guitarists
The neck is fatter than some, which may be hard on small hands
Left-handers won't get use out of the pickguard
Can't plug the F325D into the amplifier
Yamaha F325 Specs, Features & Benefits
The F325D and the FX325A have pretty much the same features, apart from the FX325A having a built-in pickup.
Here are the important aspects of the guitar and why they make such a difference!
Dreadnought Shape
The dreadnought is one of the most classic guitar shapes! It's also one of the most common acoustic guitar shapes, the other being the concert (which is smaller and sounds a little different).
The F325's body is fairly large and thick, in typical dreadnought style. That means it has great resonance and sustain, so you'll be able to play louder and your chords will ring for longer, which is one of the great benefits of a dreadnought!
The downside is that shorter guitarists may feel dwarfed by the guitar body, and it may be uncomfortable for smaller people to play.
Smaller guitarists could choose a concert-style guitar, or be a rebel and go for the dreadnought anyway. There's no replicating that natural resonance!
Tonewoods
Different woods produce different tones. Hence the name tonewoods! The two you'll find on this instrument are meranti and spruce.
The F325's body (back and sides) is crafted from meranti wood. Meranti is generally used for strength and durability rather than tone, but it's not a bad sound.
The top (or front) is made of spruce. Spruce is a stiff wood, which makes it great for guitar tops. Due to this stiffness, it produces amazing resonance.
It's true that these tonewoods are the cheaper ones, but the mix of woods creates a well-rounded sound, with deep, bassy low notes and bright high notes.
You'll be hard-pressed to find another guitar at the same price that sounds as good!
Check this video out for a good demonstration of the sound and versatility of the Yamaha F325.
These woods are also fairly lightweight, so even though the shape is pretty large, the guitar shouldn't be terribly heavy.
Thick Neck
Along with the larger dreadnought shape comes a larger neck. It's not extremely noticeable by sight, but if you've played guitars with sleek, thin necks before, you'll feel the difference.
My Jackson has a lovely thin neck. If I pick up an instrument with a thicker neck, I suddenly feel like I'm right back to beginner level! It takes some time to get my fingers to work with me again.
If you're like me and have little hands, you may find it more difficult to navigate around the guitar fretboard and change from chord to chord. It may require more stretching than you're used to!
For beginners with medium to large hands, though, the large neck size will be helpful for easier chord fingering.
If you do have small hands but you're determined to stick to the Yamaha F325 for its affordability and resonance, it's something that can be worked around.
Different Purchasing Packages
You can buy the Yamaha F325 on its own, or you can purchase a bundle, known as the Gigmaker Package.
There's not that much difference in the Yamaha F325 price and the cost of the Gigmaker. For roughly $20 more, you'll get a soft gig bag, a strap, an electronic tuner, some picks, an extra set of strings, and a helpful DVD.
If you'd prefer a more protective case, there's a hard case bundle that contains the same stuff as the soft bag one. It's more expensive, but definitely does a better job of protecting your guitar from damage.
I'd be remiss if I didn't mention the option to purchase the acoustic electric version. Technically, it's an FX model and not an F model, but the FX-325A is able to be played through an amp.
Other Opinions on the Yamaha F325
As always, there's not one guitar that's right for everyone! Here's what some other people had to say about the Yamaha F325.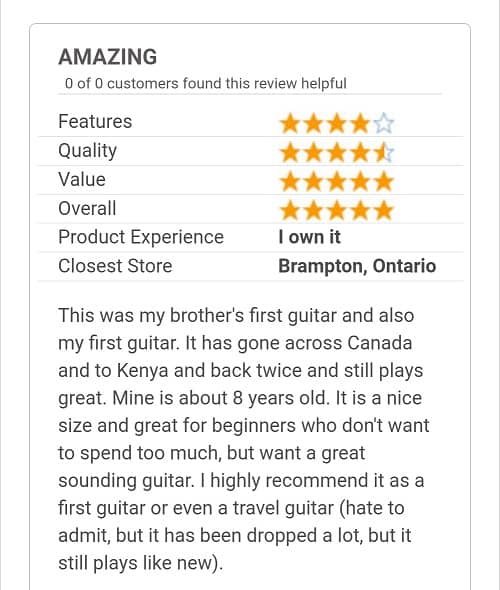 Alternatives to the F325
If you're unsure whether or not the Yamaha F325 is the guitar for you, here are some good alternatives for you to check out.
Yamaha F335
There's not actually that much difference in the Yamaha F325 vs F335.
The F335 is a little more "high-end" than the F325 in terms of appearance, thanks to the gold tuning heads (as opposed to silver on the F325), a stained finish as opposed to plain wood, and a tortoise shell pickguard.
In terms of playability, sound, and comfort, they're pretty much exactly the same. If you don't quite like the look of the F325, the F335 might be more your style.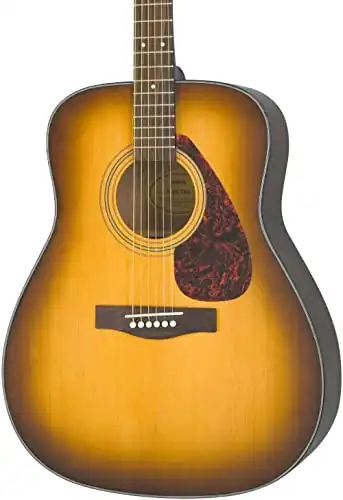 Yamaha FG700
Is the Yamaha FG700S acoustic guitar good compared to the F325? Again, the difference is really in the eye of the beholder.
The body is made from nato wood, which is on-par with meranti in terms of durability and sound. Spruce is the wood of choice once again for the top, so the sound and volume is similar to the F325.
Perhaps the most noticeable differences are the addition of black-and-white body binding, a tortoiseshell pickguard, and a high-gloss finish.
Ibanez IJV50
Is Ibanez better than Yamaha? That all depends on who you speak to. If Yamaha isn't your brand of choice, this Ibanez is around the same price and comes in an all-you-need package.
Like the Yamaha, it can be a good option for some beginners.
There's no pickup on this guitar either. The body is crafted from spruce (top) and agathis, which is similar to mahogany.
In this package, you'll get a strap, soft gig bag, tuner, 4 picks, and a handy travel bag to store them all in.
Final Thoughts
If you're in the market for an affordable dreadnought, the Yamaha F325 could be the one. You're not likely to find another guitar in this price range with such a full, resonant sound.
It's also created from sturdy, durable woods so it can withstand a bump or two.
The main potential downside (depending on your goals) is that it can't be played through an amp.
One of the nice things about this guitar is that you can buy it on its own, or as a package with all the accessories a beginner needs to get playing immediately.
I'd venture to say it's a solid choice for beginners who are just learning, pros who need a practice guitar that won't be played through the amp, and those who have medium to large hands!
Overall, it's got nice resonance, sustain, and tone for a more affordable guitar, and would be worth taking a look at.