Wanna cut to the chase? I went searching for the best mini guitar amp, and my top pick was the Behringer U-Phoria UMC404HD.
An audio interface is an important piece for anyone who's serious about making good music. And that's true whether you're mainly a singer or more of a guitar player.
If you've never had to buy an audio interface before, don't worry. I know it can be confusing, and I'm here to help.
You can get audio interfaces at a range of different prices.
Today I'll shave with you 5 of the best audio interfaces under $500 (or at least pretty close to that range).
I also included a buying guide and some frequently asked questions at the end, so check that out if you need more info.
Sometimes audio interfaces are available as bundles, with headphones and microphones included. But most people prefer to buy those separately, so I'll concentrate on the audio interface alone.
You should still be able to get a good audio interface and a few accessories without breaking the bank though, if you're selective about what to buy.
Without further ado…
Top Pick Overall: Behringer U-Phoria UMC404HD
1.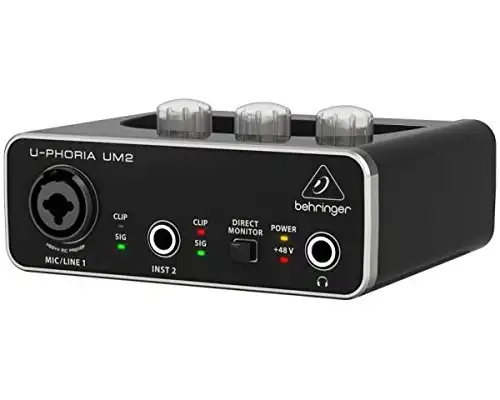 My top pick for the best audio interface under $500 is the Behringer U-Phoria. It is a widely selling and hugely popular audio interface – and it's available at a bargain price too.
Whether you want to hook up microphones, keyboards, guitars, or even MIDI devices, this beauty will do the trick. There are 4 inputs and 4 outputs altogether.
There are 4 world class mic preamps, designed by the legendary MIDAS. They feature that all-important phantom power for condenser microphones. (If you're unfamiliar with these terms, don't worry, I cover it all in the buying guide later.)
It features zero-latency monitoring, which means there's no delay or lag in the returning signal, and performers can experience their performance clearly.
It gives you really professional results, which is all thanks to it's 192 kHz resolution.
And I love the software that comes with it. Tracktion is a digital audio workstation with an easy to use single screen interface, and a readily available library of resources.
It has some wicked features, and through it you can compose, edit and mix to your heart's content – and then share your music with the world!
I should let you know though, you may not get perfect results straight away. If you don't set it up properly you could end up getting a hiss in the headphones when you turn the volume up.
What I Like
Amazingly affordable
Zero-latency monitoring
Legendary MIDAS mic preamps
Tracktion music production software
You can hook up MIDI devices
What I Don't Like
To get it working at its best, you've got to ensure you set it up properly
Some users have noticed a hiss in their headphones when you turn the volume up
Top Pick Overall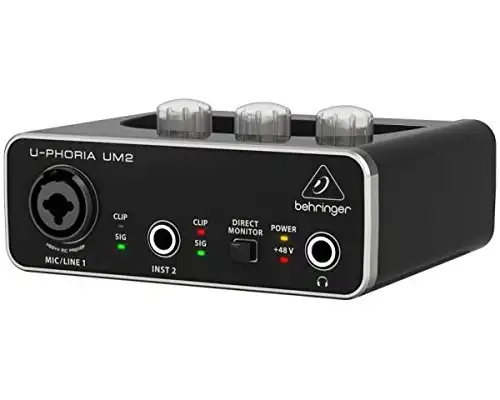 Editor's Choice: PreSonus Studio 1824c, 8 Mic Pres-10 Line Outs
2.
Please note, this product review is based on the 8×10 version of this audio interface. There are smaller, more affordable versions of this model available as well.
With so many inputs and outputs, this audio interface is not just for solo artists rocking up with just a mic and guitar. With this beauty you can record a whole band, with more than one guitarist, more than one singer, multi-channel drums – the lot!
It has a high resolution of 192 kHz, so you get the ultimate in precision and audio quality.
It features 8 XMAX Class A mic preamps, as well as MIDI input/output. And they all have that much talked about phantom power (more on these things in our buying guide). You get deep lows, smooth highs, and a rich overall sound.
There's zero latency, so you get absolutely no lagin the sound coming through to the 2 headphone outputs.
The recording software included in the price is world class. It's easy to learn and you can concentrate on composing, recording and producing. It doesn't have all the needless extra tools you can get with some of the other software out there.
But that said, if you did want to make any relevant purchases, say for a new loop or sample, you can shop right from the software. How handy is that!
It's available with different numbers of inputs and different numbers of outputs as well.
Fortunately, although the price does go up with the number of ports, all of them should still come under your $500 budget. However, please be careful to select the one you want.
What I Like
Loads of inputs and outputs
High resolution of 192 kHz
8 XMAX Class A mic preamps
Software included is world class
Absolutely no lag in the sound
What I Don't Like
You may not have much of your budget left over after buying this
Editor's Choice
Best High-End: Focusrite 18i8 3rd Gen 18×8 USB Audio Interface
3.
Here's another great audio interface from that great brand Focusrite.
It has 8 analogue inputs, including 4 mic/line inputs, and two instrument inputs. There are also 4 additional fixed-line inputs. As for the outputs, there are two independent headphone outputs, one for the mixer and one for the performer.
And there's two extra line outputs that were missing before the 3rd generation upgrade. You even get speaker switching technology for dual monitor setups.
Not only does this beauty give you analogue to digital conversion, but you also get digital to analogue conversion too. Plus you get the ultimate in precise audio, thanks to it's 192 kHz resolution.
Recordings and playback sound amazingly clear.
It also features Focusrite's trademark Air setting, which gives your vocal and acoustic recordings a brighter and more open sound.
One of the things I like about this beauty, is that it comes with a bunch of cables, which is great because you can never have too many cables. (Please see the Amazon page for the types.)
There aren't too many peer reviews around on the net for this model, but the peer feedback you do find is all really positive, as you would expect from such a good and well established brand.
What I Like
8 inputs, including 4 mic/line inputs
A/D plus D/A conversion
Precise 192 kHz resolution
Focusrite's trademark Air setting
Comes with 4 cables
What I Don't Like
Not many peer reviews around
Best High-End
Runner Up: M-Audio AIR 192|14, 8 in 4 out
4.
Please note, this product review is for the interface with 8 inputs and 4 outputs, and not for the other versions of this model on the Amazon page with less ports.
In total you get 4 mic inputs, 2 instrument inputs, and 2 line inputs. The stereo outputs meanwhile are made up of 2 assignable auxiliary outputs plus 2 headphone outputs.
The M-Audio AIR 192|14 provides a class-leading round trip latency, thanks to its Hi-Speed circuitry and fast connection, which means you get barely any lag between creating the sound and hearing it through the headphones.
And you get studio quality sound capture, thanks to the crystal clear preamps and ultra pristine converters. Which, together with the 192 kHZ resolution, means your sound quality couldn't be more crisp.
I love how you can hook up other bits of gear to it, like your MIDI gear or synthesizers and sequencers. So versatile – just imagine what you can do if you put your mind to it!
Don't be put off by the interface's busy appearance – it's easier to use than it looks.
There's an absolute ton of free premium software included in the price, including the ever popular Pro Tools.
What I Like
8 inputs and 4 outputs
Loads of free premium software
Class-leading round trip latency
Professional level sound quality
Hook up to MIDI gear e.g. synthesizers
What I Don't Like
Classed as low latency rather than zero latency
Runner Up
Best for Beginners: Focusrite Scarlett 2i2 (3rd Gen) USB Audio Interface with Pro Tools
5.
Of course when I saw just how well this baby was selling I just had to see what all the fuss was about. Turns out it was an interface we'd already heard of – an iconic one in fact.
The Focusrite Scarlett 2i2 has helped make more records than any other interface in history. Hard to believe maybe, but true.
It comes from Focusrite Scarlett, a strongly established brand and series, and one that's still dominating the best seller lists for audio interfaces with the retailers.
This is a great choice for solo artists. It has two inputs, one for your mic and one for your instrument. And you can set up simultaneous recording and playback of up to two channels.
Plus there's independently controllable headphone and monitor outputs.
I love the mic preamp – it's an upgraded version of the iconic 2i2, and it has the optional air setting, which gives your vocal and acoustic recordings a brighter and more open sound.
The instrument inputs are great too – they allow you to record guitar or bass without any clipping or unwanted distortion.
It also comes with phantom power too (if you don't know what that is, don't worry, it's all laid out in our buying guide later).
You'll also get some amazing software included in the price. It's really good software too, intuitive enough for complete beginners, but you can also get super creative with it too.
You even get a free 3-month Splice Sounds subscription, which has millions of royalty-free one-shots you can use (amongst other things).
What I Like
Upgraded iconic audio interface
Optional Air setting on mic preamp
Amazing software included
Very affordable
What I Don't Like
The 2i2 version is best suited to solo artists and not bands
Best for Beginners
Best Audio Interfaces under $500 Buying Guide
As promised, here's our buying guide. It should help answer some of your questions and give you some food for thought.
Inputs
The first and foremost question you need to ask is how many microphones and instruments do you need to hook up to your computer.
If you're a solo artist you may not think it's much of a big deal. But you don't want to be caught out with not having enough inputs to make all your recordings. It's much better to be in a situation where you have too many inputs rather than too few.
Audio interfaces generally come with at least 2 inputs. These inputs will work equally well with both microphones and instruments. But when your budget limit is $500, then you can have more than just two.
If you want to use a bunch of different microphones at the same time, then you will need a lot of preamps. If you're not too familiar with preamps, don't worry we'll get into that very shortly.
If you want to plug a guitar or keyboard straight into the audio interface, then you'll need to check that it has instrument level inputs. These are called hi-Z inputs.
Outputs
You will also need a number of outputs. You will need stereo outputs for speakers, and you will need headphone outputs for each performer.
Some people also like their audio interface to have an output for an outboard processor. An outboard processor is an external processor that's not part of your mixing surface.
Preamps
You can attach a preamp to each mic and instrument input. Preamps amplify low level microphone and guitar signals. This is super important for microphones because the audio signal from them is really weak.
The quality of a preamp can have a big impact on the sound of your recordings. But there's an issue. The more preamps installed on an audio interface, the more it will cost.
If you were thinking of using condenser microphones (useful live, like playing in Church), then you'll need the preamps on the audio interface to be equipped with something called phantom power.
Phantom power is power transmitted through microphone cables to work microphones that contain active electronic circuitry.
Software
Choosing a good audio interface is not just about inputs and outputs, you also need to think about the software.
The audio interfaces in our top 5 picks that I showed you earlier all come with their own compatible software. If you already have software for your mixing and recording, then you will need to look out for an audio interface that's compatible with the software you already have.
If however you're quite new to the game, then it's worth checking out some Youtube videos for the software that you're most interested in. That way you can decide for yourself if you think you'll find them easy to work with, or if they have all the features that you're looking for.
Unfortunately it's beyond the scope of this article to say what's the best software around at the moment, especially as more developments are made all the time.
However I can direct you to further information on digital audio workstations (DAWs).
Watch this tutorial to learn more about how to use an audio interface.
More Info on audio interfaces
I realize the information provided in this buying guide is quite basic, so if you're keen to learn a little bit more about them, then I can recommend looking at this link.
And if you still feel unfamiliar with the different music terminology, then I can recommend checking out this link.
FAQs
Which audio interface is best for beginners?
If you're a beginner guitarist or solo artist, then I recommend for your first ever audio interface that you go for our number 5 pick, the Focusrite Scarlett 2i2 (3rd Gen).  
It's a classic and iconic audio interface that is actually really straightforward and easy to use.
Does it matter which audio interface I use?
The main thing to consider when buying an audio interface is whether or not it has all the inputs and outputs that you need.  
(For example, if you use guitar slides you may want specific sound options.  
Once you've gotten that decided then you can think about other important matters such as the brand or reputation of the audio interface, the preamps, the phantom power, and what kind of customer reviews have been left online.
Does audio interface affect sound quality?
The short answer is, yes. A good quality audio interface can really improve the sound quality of your recording. What the audio interface does is to actually reproduce a more accurate representation of the sounds.
Wrap Up
So, I'm thinking the Behringer U-Phoria UMC404HD is possibly the best audio interface under $500, but the other ones I talked about are also pretty cool too.
If you have any more questions about audio interfaces, this link should take you to those particular keywords on a popular online forum.
And if you're ready to learn more, why not check out some easy beginner guitar songs, or a fun story about why Stairway to Heaven is banned in guitar stores?
And if you're looking for a new guitar, I'd recommend our Epiphone Wildkat review.
Happy Strumming!