I got my first proper, high-quality electric guitar when I was about 19. It was a beautiful little Jackson DK2 Dinky, and it's still my main guitar today (a decade and a bit later).
I'm a big Jackson fan. But when I was buying my first one, it was quite a race between my DK2 and an Epiphone Les Paul.
At the time, I did a lot of research into the Epiphone brand, and a lot of strumming and soloing on various Epiphone guitars.
So today I can bring you this Epiphone Wildkat review, with some personal experience of the brand.
Even though I chose my Jackson over the Epiphone, there's no denying Epiphone makes some quality instruments.
But is the Wildkat worth its price tag, or is it simply a fancy-looking imitation?
Let's find out!
Is Epiphone a Good Guitar Brand?
Epiphone is a guitar manufacturing company that's owned by Gibson, one of the biggest names in the guitar world.
Interestingly, they were Gibson's biggest rival in the market for archtop guitars in the early 50s! After World War II, they weakened and Gibson bought the business in 1957.
Epiphone guitars consist of two distinct categories – those that are modeled after Gibson classics, and those that are unique Epiphone models.
Considering they're crafted under the Gibson name, Epiphone guitars are still of great quality, although they're not as high-end as original Gibsons.
Presenting… The Ultimate Epiphone Wildkat Review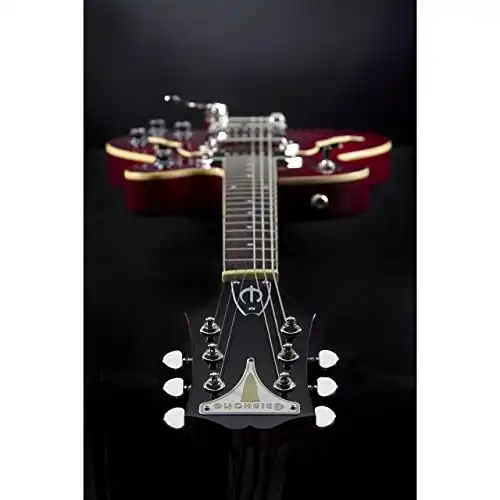 If some of these terms in this section are new to you, don't worry! We'll discuss them in more detail below.
The Epiphone Wildkat is an old-school, 50s-style semi-hollow body electric guitar. It features a single cutaway, classic double F holes for resonance, 2 single-coil pickups, and a Bigsby tremolo system.
The body is slightly larger than your classic Fenders or Ibanezes, but still smaller than some of the old-school traditional Gibson body sizes.
It's crafted from mahogany and maple, which produce a warm, bright tone.
If it looks familiar to you, it may be because you've seen the old bluesmen playing similar style guitars. Its design and sound quality are super for blues, jazz, and light rock.
The Epiphone Wildkat weight may not be ideal for smaller guitarists. The semi-hollow design means the weight is mostly in the neck, which can throw a smaller guitarist off balance.
Also, if you're a hard rocker or metalhead, this won't be the instrument for you! Blues, jazz, and light rockers, yes.
What I Like
Classic style.
Semi-hollow design adds to both sound and strength.
2 Epiphone P90 single-coil pickups.
High-quality vibrato system.
Smooth, clean tone.
Semi-hollow body allows enough amplification for practice without an amp.
Smaller body than most hollow-bodies.
Lightweight.
What I Don't Like
Weight distribution may be uncomfortable for some.
Doesn't come with a case (and a case is essential for safekeeping).
The large Epiphone badge on the headstock can cause a rattle.
Bigby system can cause tuning issues.
Many users feel that the tuning heads are low quality.
Features & Benefits
The Wildkat has some specific features which contribute to its clean, bright sound.
Semi-Hollow Body
You may have heard about hollow-body guitars, but this one is a semi-hollow body. This means it's not entirely hollow inside. Instead, it has a solid centerpiece and hollow chambers on either side of it.
This has an effect on the sound, which we'll get into in a moment.
But it also means the guitar is quite a bit lighter than a solid piece of wood, while being sturdier than a complete hollow body.
Tonewoods
Firstly, let's have a look at what woods the guitar body is built from. The tonewoods used to craft the Wildkat are mahogany and maple.
The back is made from mahogany, and the top (or front) is made out of maple. This combination is well-known for creating warm, full, and smooth sound.
Unlike many guitars of this particular 50s style, the Wildkat's body is small and easy to handle. The only thing that may be an issue is much of the weight is in the neck, as the body is hollow.
Semi-Hollow Design
Now, the semi-hollow part. This design creates a good amount of resonance, which means sound projection.
Just like an acoustic, if you strum this guitar without plugging it into an amp, you'll get some sound out of it.
Now, the problem with full hollow bodies is that they tend to get too much sound bouncing around inside the body, which can cause some messy noise when trying to play with any kind of effects.
The Wildkat's semi-hollow design reduces that messiness and creates a well-projected but clean, clear sound.
This video gives a rundown of the difference between hollow, semi-hollow, and chambered guitars.
Bigsby Tailpiece
The Bigsby tailpiece is the large silver piece you see under the strings when the guitar is standing straight up. It also includes the floating arm, which is called a tremolo or whammy bar, and is used to bend the pitch of a note.
Function
Have you ever seen a guitarist literally bend the strings upwards in the middle of a solo? Or wiggle their fingers around to make a chord or note last extra long?
When I first saw that, I spent hours trying to replicate it. It mainly resulted in very sore fingers and many broken strings!
The vibrato system can create that note bend or sustain for you, but usually it's just used to give a nice wobbly effect on chords or fingerpicking.
Pros and Cons
The Bigsby is a great addition to the Wildkat, and has a stylish vintage look to it. If used correctly, you can get some amazing sounds out of it!
Some guitarists dislike the Bigsby as it can throw your tuning out of whack. If you're gigging with this guitar, it may require minor tuning adjustments between songs.
For your everyday light wobbly vibrato, you should be totally okay.
If you really struggle with it going out of tune easily, restringing the guitar with a heavier gauge string may help.
Here's how to use your Bigsby vibrato system while playing.
Sound
The combination of the warm tonewoods, semi-hollow design, and Epiphone's choice of pickups on the Wildkat create a smooth, velvety sound that's reminiscent of old-school syrupy jazz.
Pickups
The Wildkat is equipped with two Epiphone P90 pickups. Many Gibson and Epiphone guitars come with humbuckers, which are two single pickups wired together, but this one doesn't.
These pickups have been created specifically for hollow bodies, and create that very clean, jazzy bluesy tone, as opposed to a rougher, more distorted sound.
For guitarists wanting to play hard rock bordering on metal, you're not likely to find the right tone on this instrument.
If you're leaning more towards blues, pop, or light to slightly heavier rock, then you may find the Wildkat's sound to be quite pleasing.
This video shows a sound comparison between hollow body, semi-hollow, and solid body (using various guitars).
Resonance
Thanks to its semi-hollow design, the sound projection on this guitar is very nice. It brings a much fuller, more robust sound quality, instead of the flatter tone you get from solid bodies.
It's a bonus that you can practice without an amp, as the sound holes give some decent resonance by themselves.
Controls
One of the things I like quite a lot about this guitar is that it has separate volume controls for each pickup, as well as a master volume knob.
There's also a control for tone, and your pickup selector switch to flip between the neck or bridge pickups, or both.
Despite being a fairly simple setup, it still allows for plenty of control over your own tone.
Alternatives to the Wildkat
If you're unsure of the Wildkat or want a couple more options to compare it to, here are three other Epiphone options that are worth looking at.
Epiphone Wildkat Royale

If you aren't a fan of the Epiphone Wildkat red color, this guitar is pretty much exactly the same instrument, just in white and with gold hardware.
What I Like
Limited production, so the style is unique
Pearl white finish
Epiphone P90 pickups
Bigsby vibrato system
What I Don't Like
As with the red Wildkat, the Bigsby may cause tuning problems
Epiphone CASINO Thin-Line Hollow Body
The Casino is a full hollow-body, and is truly reminiscent of the old days!
It has a larger, completely hollow body, the same pickups as the Wildkat for that clean sound, and the same combination of mahogany and maple.
What I Like
Good acoustic properties
Unique trapeze tailpiece
2 Epiphone P90 pickups
Maple body and top, mahogany neck
What I Don't Like
The larger body may be uncomfortable for smaller guitarists
Epiphone Les Paul Special II

If a solid body guitar is more your thing, the classic Les Paul Special could be the Epiphone for you.
It features a mahogany body for a warm tone, two humbuckers for a versatile sound that can handle everything from clean pop to hard rock, and a solid bridge as opposed to the floating one on the Wildkat.
What I Don't Like
Need an amp to get sound out of this guitar!
Final Thoughts: Is the Epiphone Wildkat a Good Guitar?
Our Epiphone Wildkat review has revealed some superb features, but also some downfalls of this unique instrument.
I love the Bigsby vibrato system, although if you're hard on it or prefer lighter gauge strings you could find yourself frustrated by how often you need to re-tune.
All in all, though, I would give the Wildkat a big thumbs-up for being an affordable guitar with plenty of high-end features.
If you're in the market for a smooth, sweet-sounding guitar, it's worth having a look at!
Thanks for reading!