Are Yamaha guitars good quality?
Yamaha guitars are high-quality instruments. The problem? They're not as flashy as other brands like Gibson, Martin, or Fender. Because of that, they can go unnoticed or even have a bad reputation. The truth is, Yamaha guitars present players with a full, robust sound. They have excellent craftsmanship and they play warm, rustic tones that are especially appealing to acoustic players. Even better? They're generally very affordable.
It took me way too long to appreciate Yamaha guitars.
Growing up, I stuck to my beloved Breedlove. But my dad is a diehard Yamaha-head and would never stray from his prized FS800 model.
It wasn't until years later that I finally picked up his Yamaha. Frankly, I was surprised by the quality of the guitar. Over two decades later, he's still rocking out on the same model.
Whenever I scroll through guitar reddit, I often see newer guitar players wonder if they should buy a Yamaha. It begs the question: are Yamaha guitars good? Read on to find out!
Are Yamaha Acoustic Guitars Good?
Yes! Yamaha acoustic guitars are great instruments. They produce rich, complex tones. They are incredibly durable. And, more often than not, they have prices you can't beat.
Of course, specific benefits and drawbacks depend on the model you buy. If you buy a cheaper starter acoustic, it most likely won't last you years and years. But if you buy a mid-level or a top-tier guitar, you'll enjoy great sound, excellent longevity, and a beautiful aesthetic.
How Good Are Yamaha 12 String Guitars?
If you're in the market for a 12 string guitar, Yamaha makes a variety of 12 string models that are all high quality. I love the Yamaha LL16-12. This model comes with a large body that accentuates the low-end frequencies. Additionally, its large body enables Yamaha to make the chords full and rich. 
How Good Are FG720s Yamaha Guitars?
The FG720s is part of the Yamaha FG Series and is an excellent instrument for playing folk music. That's because its laminate mahogany sides and back add warm layers to its tone. Betware: the FG720 has a small body. But, though it's small, the cavity has a remarkable depth that further deepens the resonance. Still, there are drawbacks. The instrument doesn't come with electronics. If left unaltered, this model isn't great for live performances.
Which Yamaha Acoustic Guitar is Best for Beginners?
Generally, Yamaha can be difficult for beginners due to string and fret sizes. Still, Yamaha presents players with great prices for quality instruments. This is appealing to new players.
Are you looking for a quality instrument as a beginner player? May I present the Yamaha GigMaker Acoustic Guitar Starter Pack.
Only costing a couple of hundred dollars, the GigMaker is a quality instrument. It comes with die-cast chrome tuners, a spruce top, and a bright, light, crisp sound.
Ultimately, the body has a good feel, and most of the players I've spoken to who started with this guitar say it has a full sound.
And, like every Yamaha guitar, it looks nice, too. The GigMaker comes in two finishes: Natural or Brown Tobacco Sunburst.
But it's so great for beginners because it comes with a starter pack. This starter pack comes with everything a new guitar player needs, including:
Of course, this is a starter guitar. You shouldn't expect it to age as well as a higher-brow model. The GigMaker can fall out of tune, and some materials (like the gig bag and neck strap) aren't the highest quality. As a result, they can degrade.
But if you're a new player looking to pick up the guitar on a whim, I recommend the GigMaker Starter Pack.
What are the Most Popular Yamaha Acoustic Guitars?
If you're looking for something of a higher caliber to the Gigmaker, there are plenty of other options.
One of the most popular Yamaha acoustics, if not the most popular, is the Yamaha FG830. If you're looking for an acoustic with some oomph, this might be your model.
Yamaha makes this model with scalloped bracing. If you don't already know, scalloped bracing is an internal construction method. It's this bracing that empowers the FG830 with its punchy, fatty, and bold sound.
Even though it's moderately priced, the FG830 also comes with a luxurious solid spruce top. As a result, the instrument produces a dynamic, unrestrained range for assertive chords.
If you're hunting for one of Yamaha's higher-level instruments, Yamaha's Red Label is popular among advanced players. And it's easy to see why. Each guitar is custom-treated with Sitka spruce and mahogany back. This powerful combination produces a developed sustain and a rich, rustic tone.
Yamaha Red Label FG5
The all-solid wood constructed Yamaha FG5 Red Label plays great and sits at a comfortable price point. While I love the timeless look, the rich tone of the guitar is what really wins me over.
Buy Now at Amazon
We earn a commission if you make a purchase, at no additional cost to you.
Additionally, the brace is scalloped to project a balanced, louder tone. But, if it's still too quiet, the guitars come complete with the Yamaha Atmosfeel. The Atmosfeel is a three-facet pickup system. The pickup system projects volume while continuing to project a natural sound.
Be aware: these Red Labels come with a hefty price tag. So, if you're looking for a popular Yamaha guitar that won't break the bank, steer toward other popular models like the GigMaker or the FG830.
Are Yamaha Electric Guitars Good?
Yes, Yamaha electric guitars are good. Not only are they quality instruments, but they're also widely used throughout the industry. Here's why.
Yamaha designs acoustic bodies with thoughtful chambered bodies. They do the same when designing their electrics.
For example, the Revstar has a chambered body to develop a fuller tone, craft balance, and reduce the instrument's weight. The lighter weight provides other benefits, too. Since it's lighter, you can kiss shoulder and neck pain goodbye.
Yamaha RevStar RS502 Electric Guitar
Japanese minimalist style is simple to describe but hard to capture. With just enough of everything you need, and nothing that you don't, the RS502T is exactly what it should be-beautifully simple.
Buy Now at Amazon
We earn a commission if you make a purchase, at no additional cost to you.
Like with their acoustics, Yamaha retains tight control over the quality of their electric instruments. While higher-end Yamaha electrics aren't usually their sweet spot, you can get an excellent entry-level or mid-range Yamaha electric for a reasonable price (think a few hundred to low 1,000 dollars) for a quality build.
Are Yamaha Revstar Guitars Good?
Revstar guitars are tremendous, and largely underrated in the market. Even without the publicity, the Revstar is an excellent guitar. The fit is comfortable and smooth, the playability is excellent, and the design (taken from inspiration from Yamaha motorcycles and classic race car design) is a standout. If you're looking to upgrade your guitar from a starter to a mid-level electric under $1,000, consider the Revstar. 
Are Yamaha Pacifica Guitars Good?
Like the Revstar, the Yamaha Pacifica is a highly underrated mid-range guitar that boasts high-end parts and equipment for an affordable price. For example, Grover Locking Tuners ensure strings remain tight and in-tune for hours of play. The best part? It's 100 dollars cheaper than the Fender equivalent. 
Which Yamaha Electric Guitar is Best for Beginners?
If you're searching for a great Yamaha electric guitar for beginners, check out the Yamaha Pacifica series.
The PAC112V is one model in the Pacifica series and is an excellent tool for beginners. The pickups have a solid weight and punch to them, and because of the hardware, the PAC112V is an incredibly versatile instrument.
If you dabble in many genres, you can easily use this guitar for all your sessions. That's why this is so good for beginners. If you're still trying to figure out what sound you like to play or what genre your jam is, the PAC112V will let you experiment — all while providing a solidly constructed instrument.
That's not to say this model is without its downsides. I suggest you choose the model with the humbucker, as two single coils can create quite a bit of buzz. Furthermore, some players I've spoken to have claimed that the tone is too thin for their liking.
What are the Most Popular Yamaha Electric Guitars?
The most popular electric Yamaha guitars are the pieces from the Pacifica series.
As mentioned above, the PAC112V is a terrific option for beginner players. This is due to its sheer versatility from its combo single coil and humbucker features.
But other models in the Pacifica series have proven to be equally as popular. The PAC012 and the PAC212VQM are standout instruments. These two are very popular among Yamaha fans.
And the Revstar series is becoming very popular as well.
Crafted solely in Japan's famous studio, all three iterations of the Revstar are becoming popular for those looking for a higher-end guitar. It has crisp, bold sounds, a light body and deep resonate sounds. The combination is making the Revstar Professional, Standard, and Element steal the spotlight.
How Does Yamaha Compare to Other Guitar Brands?
Yamaha holds its own when compared to other guitar brands.
From quality, to tone, to playability and parts, Yamaha keeps up with guitar brands like Ibanez, Gibson, and Fender. However, Yamaha is not as flashy as the other brands. For that reason, Yamaha guitars are typically underrated.
Still, Yamaha consistently rolls out stellar pieces that boast high-end hardware. As a result, sometimes Yamaha outperforms its counterparts.
For example, there was a period when the Yamaha Pacifica was outselling the famous Fender Player series. And there's a good reason why. The Pacifica is as good as the Fenders Player series while costing less money.
Broadly speaking, Yamaha is on the same playing ground as Gibson. Although it's difficult to say which one is better than the other.
Let's compare popular Yamaha and Gibson models to illustrate my point.
Comparing the Yamaha Revstar to the Gibson Les Paul, the Revstar certainly has a warmer tone. Yet the Les Paul has an equally pleasant tone just with a crisper, vibrant sound.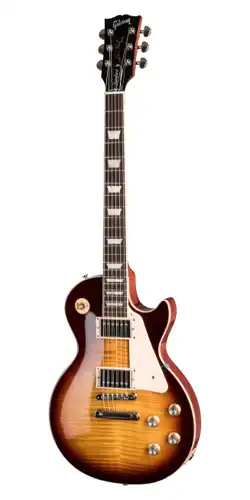 Gibson Les Paul Standard '60s
The new Les Paul™ Standard returns to the classic design that made it relevant, played, and loved -- shaping sound across generations and genres of music.
Check Best Price
We earn a commission if you make a purchase, at no additional cost to you.
It boils down to personal preference and what you like better. This is where playing the instruments in the store comes in. While it can be tempting to order a model online, make sure to play in real life.
Either way, you'll always get a better deal on a Yamaha electric than other guitar brands. The price is better, but you'll get equal, if not superior, tone, sound, parts, and playability. My opinion? That's got to count for something.
What Are the Benefits of Yamaha Guitars?
By now, you've already guessed that over the years, I've turned into a big Yamaha fan. But that's because they make stellar instruments for a great price.
Yamaha guitars have four big benefits: pricing, durability, build quality, and sound quality.
Pricing
Yamaha's big claim to fame is their ability to produce quality guitars that don't break the bank. Because of that, they're great introductions to the guitar world.
They're also great with undercutting their competitors. Yamaha produces mid-level guitars with the same quality parts as other brands but for less money.
Durability
If there's one thing Yamaha got down, it's how to create a durable guitar. In fact, many professional guitarists swear by their Yamaha's taking a hit. Edwin McCain uses a Yamaha CJ32 for this very reason. That and because they hold tune well.
That means that if you're hitting the road a lot and might bang up your guitar in transit or on a stage, consider Yamaha.
Sound Quality
Yamaha is great for mid-range players, boasting solid lows and crisp highs. To get a more specific sound (i.e., a guitar that emphasizes low frequencies as opposed to high), you'll have to look at the specific model.
In general, Yamaha guitars have a wide sound range and superb sound quality. They achieve this due to their excellent craftsmanship.
What Are the Drawbacks of Yamaha Guitars?
The most notable disadvantages are string spacing, wood resistance, tuners, and a lack of strap buttons.
Whether or not these drawbacks are enough to steer you to a different company depends on what you're looking for as a player.
String Spacing
Many guitars, or at least guitars that are good for fingerstyle playing, have string spacing of at least 11mm. Still, some Yamaha models have a string spacing of 10mm.
A 10mm spacing proves to be difficult because it's a little too cramped between strings. When you pluck strings with a pick, it's fine because the edge is so thin and hard. However, many players pluck with their fingers as a way to play more than one note at once. Because our fingers are bigger and clumsier than a hard pick-edge, a 10 mm spacing is a bit too tight.
So, if you want to learn or if you specialize in fingerstyle playing, be sure to check the measurements of your potential Yamaha guitar.
Steep Learning Curve
Even though Yamaha makes excellent guitars for beginners, their guitars tend to be difficult for new players to learn.
Thick string gauges and smaller fret sizes can have newer players struggle to get the hang of actually playing. Additionally, some model bodies are too large and awkward for new players to handle.
But I've also seen Yamaha models that have standard 11mm fret sizes. And you can always replace the strings if they're too thick or tough.
The steep learning curve boils down to your comfort levels when learning to play. Again, this is why playing the guitar in the store is vital. You don't want to buy a guitar that's so uncomfortable that you never want to practice.
Wood Quality
On some of the entry-level models, some of the wood is average or low quality. This means that the wood has lower resistance and can break down over many years. Additionally, this also means that your acoustic won't age as well as it could.
This isn't a huge dig against Yamaha, as many brands make their entry levels with lesser-quality wood. Once you get into higher tiers like the Yamaha Red Label, the wood quality is excellent and it plays and ages very well.
Strap Buttons
Many Yamaha guitars that I've come across do not have any strap buttons near the neck. Thus, it's easy to run into problems when installing the strap.
This isn't the biggest drawback in the world. It's much more important to get a quality guitar than to have convenient strap buttons. Still, I can't deny that this is an inconvenient drawback.
Where Are Yamaha Guitars Made?
As you may or may not know, Yamaha is a Japanese company. Even though Yamaha has branched out to produce other products like motorcycles, the company has deep roots in music. It was in 1887 that its founder, Torakusu Yamaha, repaired a reed organ and voila! The rest is 130 years of history.
When the company first opened all its products were made and designed in Japan. Even though Yamaha now produces instruments in many different countries, Japan houses one of the largest facilities that produces Yamaha guitars.
Here's a rundown of all their locations:
Japan
Taiwan
China
South Korea
Singapore
Malaysia
Thailand
Vietnam
India
Russia
Australia
Indonesia
The United States
One of the biggest manufacturers of Yamaha products is a company in China. It's this company that employs over 2,000 employees.
Worried about quality control? Don't be. All the employees have been trained by a Japanese master craftsman. It's this craftsman who ensures that the quality remains in each Yamaha piece.
Why Does Yamaha Make Guitars In So Many Countries?
I get it — it can seem a bit suspicious that Yamaha produces guitars in so many different countries. But there's a good reason behind the decision.
By having different stations around the world, Yamaha gains authentic insight into the specific needs of each demographic. For example, some guitar players in Belgium might have other wants than players in Taiwan.
Their multi-country operation enables them to understand specific markets better. This way, Yamaha can cater to each market to the best of its ability.
Another reason is for consumer convenience. If Yamaha only made their guitars in Japan, the wait to send your acoustic guitar to Idaho would be, well, long. No one wants that. Instead, a guitar can ship to you from California for a much faster wait time.
It's also good insurance to have so many locations. For example, if one country needs to slow production, it doesn't grind the entire company to a halt.
The last reason is that their many locations make them more affordable. Yamaha has carved a name for itself as a brand that produces quality guitars for reasonable prices. If only one or two locations made Yamaha guitars, prices would skyrocket due to high demand. This business model allows Yamaha to provide quality for a good price.
The Eternal Underdog
Despite producing world-class instruments, Yamaha continues to fly under the radar. Perhaps the reason why they're such an eternal underdog is because Yamaha rarely drops tons of money on publicity. Or it could be that their guitar designs aren't very flashy.
Whatever the reason, don't be fooled by the common misconception that I once fell for. Yamaha makes terrific acoustic and electric guitars for all levels and players. They deserve the respect and recognition that a Martin or Fender does.
If you're a newer player and are ready to upgrade to a mid-level instrument with quality sound for a fraction of the price of a Gibson or Fender, check out Yamaha.
FAQs
Are Yamaha bass guitars good?
Yamaha bass guitars are excellent instruments. Some models can feel a bit heavy. But most models have great tone and have the ability to switch pickups from active to passive. The Yamaha TRBX605FM 5-String in particular is a stellar model.
Which is better, Yamaha or Gibson?
Both Yamaha and Gibson make excellent guitars. The brand that is better depends on your personal preference. Some players don't think that Gibson makes a high quality acoustic guitar like Yamaha does. But other players lament that Yamaha can have a steep learning curve. 
Play out both options and choose the one that feels right for you.
Do Yamaha guitars hold their value?
Yes and no. Generally speaking, mass-produced instruments tend to not hold value as they age. 
Still, most of us don't have the wallet to buy a handcrafted acoustic guitar. For a mass-produced guitar, Yamaha holds its weight. Even guitars on the lower end can hold up for decades.