When I first started playing guitar two decades ago, there wasn't a lot of quality info online.
So like a lot of people, I learned out of a good old fashioned book.
Times have changed!
Now, there are almost too many online options, which can make finding the best free online guitar lessons potentially overwhelming.
Today I'll show you some of the best places to learn guitar online for free, so you don't have to sift through all the search results yourself.
Regardless of your skill level or playing style, I think you can find some useful options here.
Let's get started.
Can You Really Learn Guitar Online for Free?
You sure can. 🙂
All that's required is a good internet connection and a little discipline.
It's nearly impossible to find an in-person teacher for free. You might get lucky and have a talented family member or friend who has the time and inclination to teach you. But that's not the norm.
That makes the internet the best resource for thousands of aspiring guitarists!
It's perfectly possible to learn guitar online. Take your pick of acoustic, electric, or bass, and there'll be lessons for beginners, intermediates, and advanced players.
As for having to pay, there's so much content out there for free that all you'll need to pay is some of your time and effort!
Here are some pros and cons of learning guitar online:

Advantages of Learning Guitar Online
Stay in the comfort of your house
A huge variety of lessons and tutors at your disposal
Learn at your own pace
Learn from anywhere, as long as you have internet access
Variety of learning techniques for you to try
You can work on one thing repetitively for as long as you need
Disadvantages of Learning Guitar Online
It can be hard to stay disciplined
No teacher to ask questions if you don't understand something
It may be hard to find a teacher you particularly like
Subject to the quality of your internet connection
Free Guitar Lessons for Beginners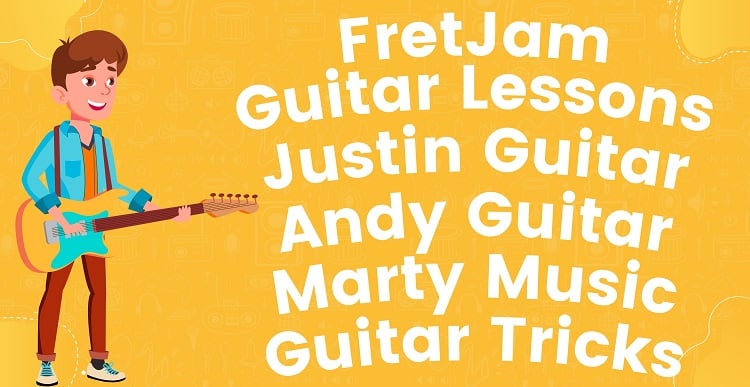 If you're just starting out, the internet can be a good way to learn with no rush and no pressure. You can take it at your own pace, and find an online tutor you like.
But it's important to understand that when learning online, you need to stay disciplined!
I recommend setting aside a small amount of time (like 15 minutes) every day to practice, plus a couple longer sessions (around 1 hour) each week.
Alright, enough on that.
Without further ado, here's my list of free guitar lessons for beginners, including acoustic as well as electric guitar lessons.
JustinGuitar is one of the most popular websites for learning guitar. His beginner lessons are appropriate for both electric guitar and acoustic guitar.
Justin Sandercoe created it back in 2003, and in 17 years it has amassed a stash of over 1000 lessons, all completely free!
The Beginner's Course is packed with more than 100 lessons (over 8 hours of video) to give you the best start possible. It includes:
Basic chords
Sustained ("sus") chords
7th chords
Power chords
How to create practice routines
Exploring chords in depth
JustinGuitar has some other useful functions that get a big thumbs-up. A smartphone app assistant, a shop with helpful products, and left-handed instructions are all available!
All in all, JustinGuitar may be the most complete collection of high quality free guitar lessons available anywhere online.
Andy Guitar
Andy Crowley's website is another one that's loaded with valuable content to help you learn guitar quickly and enjoyably.
Here's his very first beginner lesson:
When you sign up for a free account on the website, you'll have access to his beginner course. You'll find lessons on:
Tuning your guitar
Understanding chord diagrams
Reading chord sheets
Major and minor chords
Strumming patterns
Easy-to-play songs
From there, you can choose if you'd like to branch into rock, fingerstyle, or a more general electric and acoustic pathway.
In addition to a bunch of great lessons (in a very satisfying accent), you'll have access to almost 700 song tutorials.
Once you've got some chords down, learning these songs is a fun way to expand your skills, and gives you something to play with your friends.
Guitar Lessons
Here you'll find some super guitar lessons for both acoustic and electric guitar. Their lessons start from the very basics, so they'd be good for first-time guitarists.
Their beginner guitar lesson series includes things like:
The names of the strings
The different parts of the guitar
Guitar chords
How to strum the guitar
Tuning your guitar
There's also a stash of standalone lessons for the beginner guitarist. Here you can learn how to tune your guitar when you don't have a tuner, how to improve your timing, writing songs on the guitar, and how to deal with pain and stiffness when learning to play.
Once you've been through the basics, go through their Campfire Guitarist series to start playing real songs quickly and easily!
Here's an example:
Guitar Tricks
Guitar Tricks' Core Learning System is super easy to navigate and helps you see your progress easily, which is essential for beginners.
The downside of this site is that you'll get one chapter free for every module, and then you'll need to upgrade to carry on. The few free lessons you get in each chapter are worth going through, though!
You'll begin with Level One Guitar Fundamentals. In these few free lessons, you'll get a good grip on the very basics, like how a guitar works, and learning your first chords.
In the Level Two Guitar Fundamentals course, the free lessons will teach you power chords and bar chords.
From here, it's up to you which style you gravitate towards. Choose from Level One Blues, Rock, Country, or Acoustic. Each one offers two or three free lessons before you'll be asked to upgrade.
Along with these Core lessons, there are 24 free random lessons that you can go through at your own pace.
You'll also have access to tools like a metronome, fretboard trainer, chord charts, and a guide to guitar tabs.
Like most of these sites, Guitar Tricks also has a YouTube channel. Here's a recent video they published, on tuning a guitar by ear:
FretJam
FretJam's beginner lessons cover all the basics. They're great for guitarists who are starting from scratch.
Once you've been through this course, you'll know:
The parts of the guitar and their functions
How to hold your guitar properly
How the fretboard works
Where to press the strings when holding chords
Tuning the guitar
Basic chords
How to read guitar tabs
They also give you some useful finger stretching exercises, a metronome to improve your timing, and help with interpreting chord diagrams.
Free Guitar Lessons on YouTube
Don't underestimate YouTube guitar lessons! There's some fantastic stuff, and obviously it's free since it's on YouTube.
There's just one catch:
It can be hard to find the really good stuff because there are so many videos to sort through!
To make it easier, I'll share a few of my favorite YouTube channels to learn beginner guitar.
There are many more YouTube channels that teach guitar, but this should at least give you a good starting point.
Marty Music
Marty Schwartz presents his videos in a fun, upbeat way that's motivating and interesting. His YouTube channel is chock-full of stuff for guitarists of every level.
For starters, Marty has a beginner series for electric guitar, acoustic guitar, and bass guitar (not to mention ukulele!).
Here's his 1st beginner video for electric guitar:
You can find all the beginner videos mixed together in a beginner's playlist. Each is packed with good, practical info.
Marty also covers other useful stuff like how to sing and play guitar at the same time, different strumming patterns, and a ton of song tutorials.
JamPlay
JamPlay's beginner course covers things like posture, left and right hand techniques, guitar vocab, and chords and chord changing.
Their free beginner course on YouTube is a useful way to start. It's part of a more comprehensive course on their website, which does cost money.
Free Guitar Lessons for Intermediate Players
Beginners aren't the only ones who can learn something online!
If you're an intermediate guitarist looking for a challenge or to improve something specific, the internet has something for you too.
Here's our list of the best free guitar lessons online for intermediate guitarists.
Justin Guitar
Justin Guitar isn't only great for beginners. He offers a ton of content for more advanced players as well, teaching things like bar chords, scales, and in-depth style modules.
One of the things I love about Justin Guitar's intermediate lessons is its variety of styles.
I've always been a rock and blues guitarist, but I learned a bunch from Justin's jazz and fingerstyle style modules.
You'll also find modules on arpeggios, scales and modes, ear training, and a useful section on songwriting.
Guitar Lessons
Once you've mastered their Beginner and Campfire Guitarist courses, these guys have some great lessons to get you up to intermediate level fast.
I like the fact that they're split into sections for rhythm and lead guitar.
If you're a rhythm guitarist, you can work on things like:
Using power chords
Dynamic strumming
Major and minor bar chord shapes
Open chords
Timing and feel
Those interested in becoming a lead guitarist can learn how to:
Play the most common scales
Perfect the hammer-on and pull-off
Bend guitar strings
Use vibrato properly
Play a solo
There's so much more than just these lessons, though. Things like ear training, fretboard exercises, and guitar maintenance also make an appearance.
Basically, you'll learn everything you need to know on this site!
Guitar Tricks
We've already discussed Guitar Tricks up above for beginners, but they're also really good for taking it that extra step.
The free lessons offered by Guitar Tricks cover intermediate to advanced things like sweep picking, riffs in different genres, working with effects and pedals, and pinch harmonics, among other things.
If you do choose to buy a membership – blues, country, acoustic, or rock – you'll find a comprehensive lesson base in your selected genre.
The best thing is that you can go back and learn the others too!
FretJam
For more advanced guitarists, FretJam offers comprehensive lessons on guitar scales in theory and practice, lead guitar tricks and techniques, turning chords into songs, and an abundance of theory lessons.
YouTube Lessons for Intermediate or Advanced Players
In addition to beginner lessons, there are some great YouTubers out there who teach valuable intermediate to advanced lessons as well.
And of course, it's all free. 🙂
I recommend checking out:
Shred Academy
Shred Academy is for those guitarists who want to play amazing solos.
Their channel is packed with content that's centered around being a great and speedy soloist.
You'll find stuff like:
Sweep picking
Tapping
Learning licks
Unique picking techniques
Arpeggios
You'll need a good grip on guitar theory and terminology before delving into this stuff, but if you're looking for a challenge, it's worth checking out!
BobbyCrispy
If learning new songs is your thing, BobbyCrispy covers a ton of them. This is also a great channel if you're practicing reading tabs.
There's nothing too fancy about Bobby's lessons, but they're superb for picking up songs quickly and easily.
There's some stuff that's suitable for beginners, but plenty of his songs are slightly more advanced and require a decent understanding of tabs.
He also covers things like tips and tricks for becoming a great guitarist, the most common mistakes on guitar, playing slide guitar, and informational stuff like the history of rock 'n roll.
Free Bass Guitar Lessons Online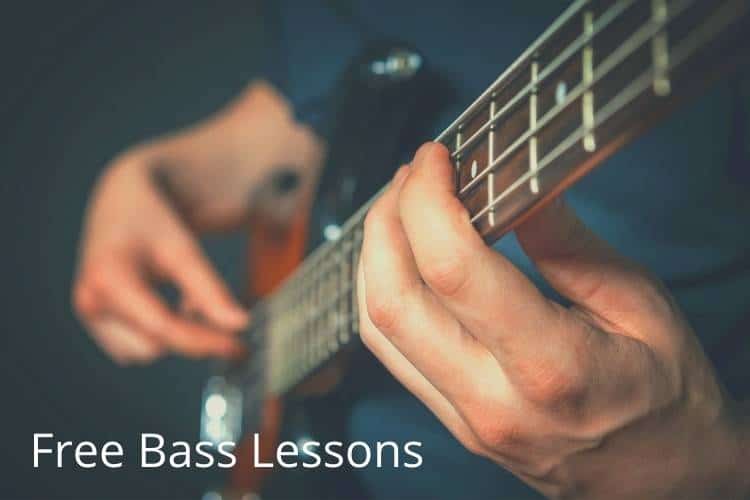 Bassists, if you happen to be reading this, here are three great sites where you can learn to play bass for free.
Scott's Bass Lessons
Scott's lessons are comprehensive and packed with actionable tips and tricks.
Be aware that a lot of the content on his site is found in a paid subscription, but he does have a value-packed free toolkit which is great for intermediate bassists.
Beginners bassist will get the most value out of his YouTube channel. There's a lot of more advanced stuff there too, so you may need to sift through to find what you need.
Scott covers things like:
The one bassline every bassist should know
A 3-step fingerboard formula
Secrets to a great bass tone
Common bass guitar fails
Learning slap bass
StudyBass
StudyBass offers a free course if you sign up for a free account.
Your tutor, Andrew Pouska, has over two decades of bass teaching experience, and has been running the site for almost 20 years.
The lessons are well-structured and cover all the ins and outs of playing bass.
It's split into Fundamentals One, Two, and Three. You'll learn things like:
The bass's role in music
How to read bass tabs
Bass rhythm skills
Major and minor keys
Memorizing notes on the fretboard
You'll also find interesting stuff like their own music dictionary, online metronome, online tuner, and fretboard diagrams.
TalkingBass
TalkingBass is all about being progressive. They offer a bunch of free, basic videos that you can access even if you aren't signed up as a member.
If you want more value, sign up for a free account and you'll get access to a lot more great stuff.
For example, by signing up you can access the member's area, where you'll find downloadable ebooks and a "practice room" (where you can play along to backing tracks).
Conclusion
Finding some of the best free guitar lessons online may be a great option, especially for beginner guitarists.
If I'd had access to such a variety of online lessons when I started, I'm pretty sure I would have learned much faster and had more fun doing it!
Whether you're still contemplating learning, you've just got your first guitar, or you're an experienced guitarist looking for something new to learn, the internet has something for you.
You don't have to pay for many of these awesome resources. But remember, in order for them to be effective, you need to put in the time and effort!
If you're going to be using these free lessons to learn, make sure you set aside regular time to practice. Be consistent, work hard, and you'll see results!
Thanks for reading, and happy learning!